Jim and Lynn Moroney Award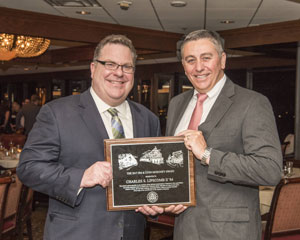 The Jim and Lynn Moroney Award is given annually to an Alumnus "whose spiritual commitment to Cistercian is very much aflame and whose dedicated work on behalf of the Cistercian family enkindles our hope for the future."
The Cistercian community enjoyed an opportunity to come together in honor of this year's Jim and Lynn Moroney Award recipient, Charles Lipscomb '84. Introduced by David Brodrick '85, Charles accepted the award and expressed his gratitude for the honor as well as for the foundation and guidance he received as a student at Cistercian.

Speeches from the evening are available on the Cistercian Dallas YouTube Channel.

Congratulations Joe!
Previous recipients:
For more information, contact Erin Hart at 469-499-5406.