Abbey Announcements
Br. Raphael Makes Solemn Profession
On August 17, Br. Raphael Schaner made his solemn profession, committing himself to the monastery for the rest of his life, and on the next day he was ordained a deacon. Abbot Peter receive his solemn profession, and Bishop Edward Burns of Dallas ordained him. Both celebrations took place during a mass in the Abbey church and before a congregation of many Cistercian friends and family. After both masses there were receptions in the Abbey courtyard. As Br. Raphael says, the Schaner family is "close-knit" and "so supportive of my vocation to this community," and so it was no surprise to see over thirty of his family members in attendance from all over the country. His family has had ample reason to travel this year with so many members getting married, baptized and confirmed. Br. Raphael joked, "We did the tally, and we realized that with my ordination our extended family has received six of the sacraments this year. The only one we're missing is Anointing of the Sick, but we're okay if we don't end up needing that one just yet."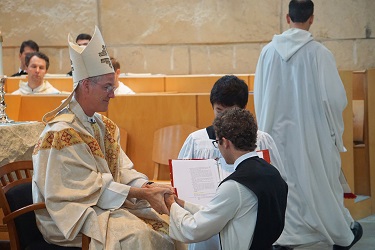 Br. Raphael promises his obedience to Abbot Peter.
The first several years of monastic life are focused primarily on discernment, on questions about God and his will for the life of the candidate. No one can take up the adventure of monastic life or pursue the priesthood unless he is first called by God, who alone has the power to guarantee that someone can persevere faithfully (cf. Hebrews 5:4). At some point in his temporary profession, the young monk must therefore reach the conviction that God is calling him in this way. Of course, he will not have resolved every question or seen his way through every obstacle; but he will have reached the moral certainty in his conscience that God is calling him to take this step, and have the faith that God will never abandon anyone in his Providence.
When Br. Raphael was asked about the moment he reached this conviction, he said his "decision to request solemn vows never came suddenly. It was a gradual process of growth, though not without growing pains. In a way, it was much like Elijah's encounter with God at Mt. Horeb — not in the raging fire, driving wind, nor rumbling earthquake, but in a small still voice. Certainly I experienced what felt like fires and storms in the process of discernment, but ultimately I found such peace in the prospect of solemn vows."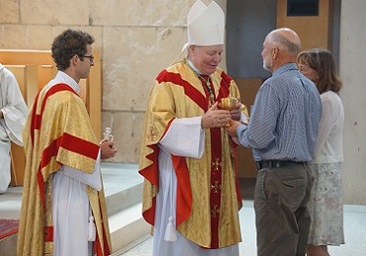 Mr. and Mrs. Schaner present the gifts at the ordination.
Discerning involves growing in self-knowledge and accepting new challenges. It can be difficult at times. Br. Raphael realizes that "discernment will not be without doubt or suffering, but Our Lord matches his steps with yours as you carry your cross. Once you embrace the cross, there is a sweetness that far outweighs the struggle."
As a deacon, this year Br. Raphael will begin serving in a new way through his preaching responsibilities in the school and monastery. He says, "There is a heavy emphasis on service in the diaconate, and I hope to continue growing in that spirit of service. Serving at the altar has been humbling, especially when I kneel right there during the consecration. It makes me feel like a child again — small, watching in wonder as father does his work at the table. I pray that that wonder stays with me, even as I prepare for the priesthood." With immense gratitude for his vocation, let us pray for Br. Raphael. May he be a faithful servant of the Cistercian community and indeed the whole Church!
Br. Christopher Makes Temporary Profession
On August 12, 2018, Br. Christopher Kalan professed his temporary vows of obedience, stability and conversion to the monastic way of life at Our Lady of Dallas. He is an alumnus of the University of Dallas and Texas A&M University, having graduated with degrees in physics and engineering respectively. This year he will return to graduate school to begin his studies for the priesthood by taking courses in theology and philosophy at the University of Dallas.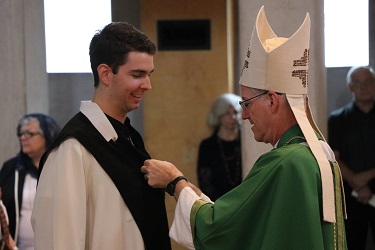 Br. Christopher receives the black scapular.
One of the joys for any community is to see the unique personality and gifts that are brought by each new member. Br. Christopher is known as an excellent handyman around the monastery. In fact, during his novitiate he was given many practical jobs like fixing doors, lights and other parts of the building. He found this work to be a nice complement to his studies: "I particularly like doing work with my hands, so the work around the monastery was a good outlet for me. It allowed me to take a break from the studies required by my novice classes and still serve the needs of the community in a way that is unique to my talents. I wouldn't say I prefer studies over manual work or vise-versa. The balance between the two is very important to me and helped keep me from going stir crazy during the novitiate and feeling like I was trapped with nothing to do except read books."
Br. Christopher's temporary vows commit him to living the monastic life at Our Lady of Dallas for the next three years. This period is still one of discernment for him and for the entire community. Every newly professed monk has at least four more years before he can be eligible to petition the community to make solemn vows. When asked to give advice about discerning, Br. Christopher said, "If I were to try to give advice it would be never say never. I did not picture myself as a monk or even consider a monastic vocation until shortly before I entered the monastery, but I did try to make myself available to promptings of the Holy Spirit and to be open to many different vocations as I approached the end of my college career." It is important, he says, to remain open to God's plan, which often surprises us: "I would also say try not to plan your whole life out because that just makes God laugh. If you are considering a monastic or religious vocation that is wonderful! Pursue that vocation, but led God lead you and do not try to force it. If you are not pursuing a religious vocation, at least be open to the idea and do not run from it. God knows what is best for you. The act of sincerely considering a religious vocation and asking God how you can fully serve him will help you in marriage or any other vocation."
Let us pray for Br. Christopher as he begins his studies for the priesthood and continues to discern God's will for his life!
Beatification of Fr. Janos Brenner
On May 1, 2018, about 20,000 people gathered in Szombathely, Hungary to celebrate the beatification of Fr. Janos (John) Brenner, a Cistercian monk who, after the supression of the Cistercian Order in Hungary by the communist government, finished his formation in the priesthood through the diocesan seminary. Fr. Janos was a young, enthusiastic priest with a special gift for serving the young. His desire to serve was so strong that he refused to stop even after being warned by a government commissar about personal threats made against him (the communists did not appreciate his success as a priest). Even when his bishop offered to transfer him for the sake of his safety, Fr. Janos preferred to remain in his ministry, placing his trust in God.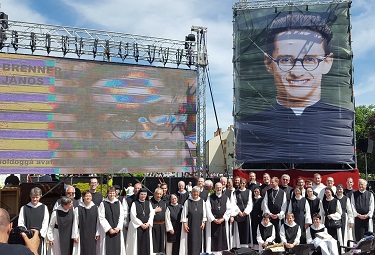 A crowd of Cistercians joines 20,000 at the beatification.
On the night of December 14, 1957, he was called to administer the last rites to an allegedly dying man. On his way, he was ambushed in the darkness of a forest trail and stabbed 32 times with knives and trampled upon once he was lying on the ground. When the villagers found him dead in the morning, he was still protecting with his hand the Blessed Sacrament on his body. Today a chapel marks the spot where he was murdered and pilgrims come there in procession from many parts of Hungary. More information about Fr. Janos is available here on our website.
Abbot Peter, Fr. Julius and Fr. Bernard were in Hungary to celebrate Fr. Janos' beatification, along with many other Cistercian monks and nuns from around the world. When asked about the celebration, Abbot Peter said, "The most moving parts of the ceremony for me were when Fr. Joseph Brenner placed his brother's relics in a beautiful reliquary next to the altar and then when he named his brother among the saints when he read his part of the Eucharistic prayer. He became very emotional, his voice quivering." We are very grateful at Our Lady of Dallas to count a member of Zirc, our confrere, among the list of blesseds and saints in heaven! May he inspire us all to fidelity in our vocations. Blessed John Brenner, pray for us!
Reelection of Abbot Peter Verhalen
On January 6, 2018, during a conventual chapter the monks of Our Lady of Dallas elected Fr. Peter Verhalen to a second six-year term as abbot of the Cistercian monastery. He was first elected on February 15, 2012. Abbot Peter is a native of Texas and an alumnus of Cistercian Preparatory School. Before serving as abbot, he was headmaster of Cistercian Preparatory School and prior of the monastery from 1996 to 2012. During his first term as abbot, he guided a capital campaign for the renovation of certain monastery buildings and the construction of a crypt. In various ways, he promoted the spiritual life of the monastic community, endeavoring to renew thoughtfully certain traditional observances, such as table reading, and to serve as a genuine spiritual father.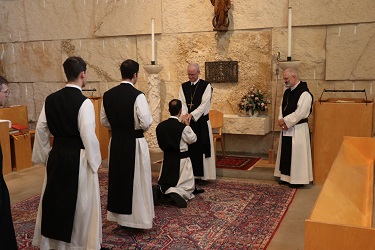 Monks renewing their obedience to Abbot Peter.
In the tradition of St. Benedict, an abbot is believed "to hold the place of Christ in the monastery" (Rule of St. Benedict, Chapter 2). This allows the monks, by their profession, to live a life of conscientious and free obedience, entrusting themselves to Providence working concretely through their duly elected superior. Please pray for all the Cistercian monks of Our Lady of Dallas, and especially for their newly reelected abbot, as they give thanks to God for his blessings and seek to discern his will for their growing community.
90th Birthday Party for Fr. Bede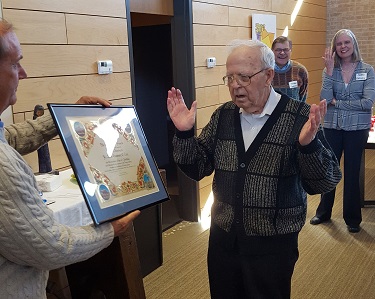 Fr. Bede is presented with a papal blessing.
Fr. Bede Lackner celebrates his 90th birthday this year. A group of his former students from the University of Dallas and from the University of Texas at Arlington honored him with a party in the guest house of the Abbey. Vince Ansiaux and John Gallagher, two students from Fr. Bede's "Western Civilization" course in the 1960's, organized the celebration.
Fr. Bede was given a cake with an image of Citeaux (the founding monastery of the Cistercian Order) drawn in the icing. In anddition, he was given a very special present from his former students: a papal blessing. May God bless him and his former students after so many years of teaching and priestly ministry.
Fifty Years of Priesthood
On Sunday, August 20, Fr. Bernard celebrated his fiftieth-year jubilee as a priest during the 9:00 mass. Just one week earlier he had flown home from Hungary, where he has been serving our motherhouse, the Abbey of Zirc, for almost two years. Since he is close to so many different communities on both sides of the Atlantic Ocean, Fr. Bernard has found several opportunities to celebrate his jubilee – seven, so far (Budafok, Kismaros, Zirc, Budapest, Stams, Székesfehérvár and finally Dallas).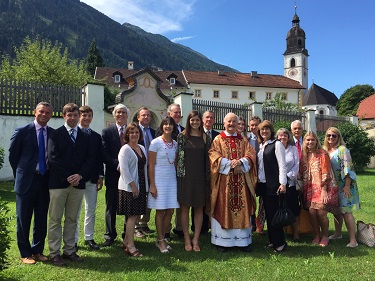 Fr. Bernard and friends at Stams, Austria.
After finishing his theological studies, Fr. Bernard was ordained in Europe at the Jesuitenkirche in Innsbruck, Austria, which is exactly where his older brother, Fr. Henry Marton, had been ordained eighteen years earlier by the same bishop. Fr. Bernard celebrated his first mass as a priest at the Abbey of Stams, with the same preacher delivering the homily that preached at his brother's first mass. Now fifty years later, Fr. Bernard returned to Stams to celebrate his jubilee. He observed that some things were the same, others different: "To be able to celebrate at the same altar, wearing the same vestments and signing the same visitor's book that I signed fifty years ago made the circle complete. I returned to my roots in many ways at this mass. With most of my family members now deceased, many of my adopted families from the US were present and sitting in the same pews that my original family occupied half a century ago. It was a gut-wrenching experience to look at them and feel their presence. Three of the original concelebrants were with me as well, and the rest I visited in the cemetery after the festivities."
Fifty years is a long time, and so a jubilee easily inspires gratitude. After fifty years of priestly ministry, Fr. Bernard says that he is especially grateful for the gift of perseverance. As the first priest to be ordained as a member of the community at Our Lady of Dallas, his road was certainly not without its challenges. When asked about his long ministry, he responded, "I cherish all aspects of my vocation as a monk, teacher and priest." We too pray with gratitude for Fr. Bernard and his ministry. May God give him every grace to complete his years of service, and especially now during his time at Zirc.
Art Exhibition at the University of Dallas
The Beatrice M. Haggerty Gallery at the University of Dallas invites you to Modern Sacred: The Saint John's Bible and Selections from the Permanent Collection, an exhibition showcasing permanent collection highlights alongside the Heritage Edition Volume "Gospels and Acts" from The Saint John's Bible, the first handwritten and illuminated Bible commissioned by a Benedictine monastery since the invention of the printing press in the 15th century. For more information on the Heritage Edition of The Saint John's Bible visit saintjohnsbible.org. For more about Year of The Saint John's Bible at the University of Dallas visit here.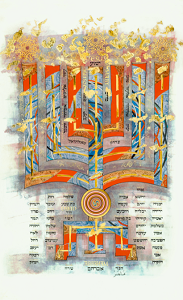 St. John's Bible Image
All works in this exhibition are by artists who sought new forms, gestures, and materials to make manifest the Christian imagination. Modern Sacred offers a rare opportunity to examine how contemporary art explores, illuminates and represents the sacred. There will be opportunities for viewers to turn each page of the Heritage Edition of the Bible witnessing firsthand the beauty of traditional and contemporary print and illumination in action. Framed prints from other volumes of the Heritage Edition will also extend viewer's knowledge and experience of this intricate combination of scripture and art. The project of The Saint John's Bible has been called "one of the extraordinary undertakings of our time," by Smithsonian Magazine. Select artists from the university's permanent collection include several of the Art Department's early founding faculty — Lyle Novinski, Heri Bert Bartscht and the Rev. Phillip Szeitz (all three professors emeritus) — as well as Cistercians Fr. Ignatius Peacher and Fr. Damian Szodenyi of Cistercian Abbey of Our Lady of Dallas, and well-known Californian artist, nun and educator Sister Mary Corita Kent.
Abbey Renovations
Over the last year, the Abbey underwent several renovations to its buildings. Most of these were designed to increase our ability to engage the wider community. Thus, the lobby was expanded and the parlors were renovated and refurnished. An extension to the west wing was made in order to create a larger classroom with an independent entrance, and so to allow student guests to come and go freely without having to pass through the cloister.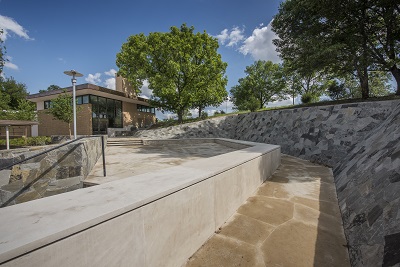 Porch leading up to the renovated guest house.
Finally, a less academic space was created in the guest house (which also received several improvements of its own) to host less formal events like receptions, Bible studies, video presentations and seminars. This enhances the primary function of the guest house, which is to provide a place for families to stay overnight when visiting one of the monks.
Other renovations to the Abbey were made to assist the internal activities of the monks. The space for the library was expanded on the first floor. While all the books were off the shelves, improvements were made to the digital catalog and organization of the library. In addition, three new bedrooms were created on the second floor of the extension to the west wing (these bedrooms are therefore just above the new classroom). Finally, the most exciting renovation is undoubtedly the crypt built next to the church to house the deceased members of the Abbey.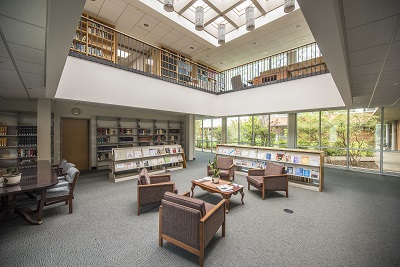 Renovated library in the Abbey.
All these renovations were made possible by the generous community that surrounds and supports the Cistercian Abbey and School. A campaign was launched in 2014 with the goal of raising $10 M to meet the needs of the Abbey and School. Thanks to the support of many donors, we need less than $60K to meet our goal. Construction on the Abbey projects began in the spring of 2016 and is just now being finished. Work on the Science Building at the School was begun in earnest as soon as the boys were dismissed for the summer in 2017.
Coming Home
Abbot Peter blesses the new crypt.
Over the last year, the Abbey has undergone a series of renovations. Among these renovations was a crypt built adjacent to the church to hold the remains of ninety-six monks. It sits underneath the earth in a hill next to the church, but the ceiling touches the surface and so allows for a skylight to run along most of the ceiling of the crypt.
The crypt was blessed on Pentecost, Sunday June 4, 2017 during a mass for the Memorare Society, which is the planned giving society at Cistercian.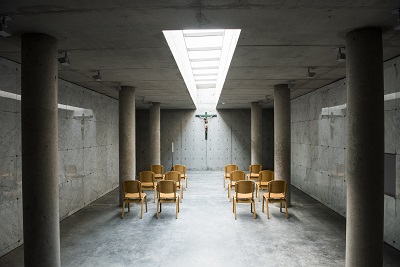 A skylight illumines the entire crypt.
For decades, deceased members of the Abbey were buried in a plot at Calvary Hill Cemetery in Dallas, Texas.  Now, all twenty-one deceased monks are back home, as it were. During July and August, their bodies were transferred two or three at a time into the new crypt. Each time a group of monks and associates from Calvary Hill Cemetery gathered to pray over the caskets before re-entombing them in the new crypt.
The story was covered by The Dallas Morning News in their piece A Brotherhood Made Whole. We are very grateful to the many generous donors who made this crypt into a reality.
Through the mercy of God may our brothers rest in peace with all the faithful departed.
Fr. Melchior Chladek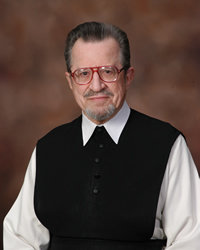 Fr. Melchior Chladek
Please remember in your prayers our beloved brother in Christ, Fr. Melchior Chladek, who passed away peacefully on Wednesday, June 14. A rosary will be offered for him on Friday, June 23, at 7:30 p.m. in the Abbey Church. The Funeral Mass will be celebrated on Saturday, June 24, at 10:00 a.m. in the Abbey Church, with an interment in the Abbey crypt afterward. A reception will follow in the Guest House.
Fr. Melchior's obituary can be found here. He was the last survivor of the group of Hungarian Cistercians who founded the Cistercian Monastery Our Lady of Dallas. Let us pray for the repose of his soul, as we give thanks for his life and ministry.