Liturgy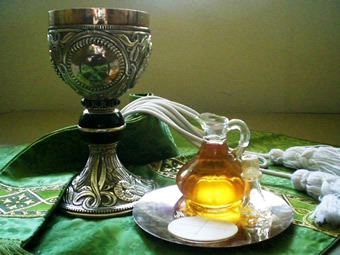 ***Coronavirus Protocols***
Dut to restrictions related to the pandemic, at this time we can host a maximum of 100 faithful at our liturgies. Please check the News section of our website ("Abbey Announcements") for further information about our liturgies during the coronavirus pandemic.
Daily Liturgical Schedule
Monks of the Cistercian Abbey invite you to join them for their daily celebration of the Mass and the Divine Office. We also offer the Sacrament of Reconciliation Wednesday afternoons. Because the Abbey is not a parish, we may not as a rule administer other sacraments, such as First Holy Communion. Under certain circumstances we may preside at the marriages of alumni here in the abbey church and baptize their children.
Divine Office

Office of Readings and Lauds
6:00 AM
Midday Prayer
12:20 PM (school days)
12:00 (non-school days)
Adoration
5:30 PM
Vespers
6:00 PM
Compline
6:50 PM

Conventual Mass

Monday through Saturday
6:30 AM
Sunday (Gregorian Chant)
9:00 AM

Confessions

Wednesday
4:00 - 5:00 PM
Holiday Schedule
Christmas

Office of Readings
11:30 PM
Midnight Mass
12:00 AM
Christmas Day Mass
9:00 AM
Adoration & Benediction on New Year's Eve
9:00 PM - 12:00 AM
Mass for Solemnity of Mary, Mother of God
9:00 AM

Easter Triduum

Holy Thursday Mass of the Lord's Supper
5:30 PM
Good Friday Veneration of the Cross
5:30 PM
Easter Vigil Mass
11:00 PM
Easter Sunday Mass
9:00 AM