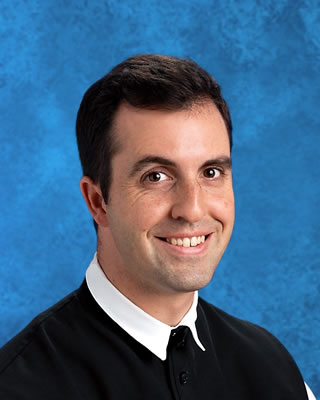 Fr. Thomas Esposito
Junior Master, Subprior: Fr. Thomas Esposito was born in Oakland, California in 1982, but grew up in Omaha, Nebraska. As a die-hard Cornhuskers fan, he feels like a lonely exile deep in the heart of Texas! His father is an orthopedic surgeon, and his mother has both a nursing degree and a Master's degree in theology. For high school, he attended Creighton Preparatory School in Omaha, treasuring his friendships with his cross-country and track teammates.
He chose the University of Dallas for college, graduating in 2005 with a degree in philosophy. Three months later, he entered the novitiate of Our Lady of Dallas, guided in his discernment by the counsel and encouragement of Abbot Denis. He made his solemn profession in 2010, and was ordained a priest in 2011.
Sacred Scripture and biblical languages have always fascinated him, and he was blessed to spend five years studying them in Rome. After completing his baccalaureate in theology (S.T.B.) at Sant'Anselmo, he earned his license in Sacred Scripture (S.S.L.) in 2011 and his doctorate (S.S.D.) in 2014 from the Pontifical Biblical Institute.
After returning to Dallas, he began teaching theology courses at the Cistercian Prep School and the University of Dallas. He inherited the Form VIII theology course (World Religions and Apologetics) from Fr. Roch, who had taught the course for 45 consecutive years! At UD, he is currently Assistant Professor of Theology, and offers courses ranging from Synoptic Gospels and Biblical Hebrew to Apocalyptic Literature and Christianity among World Religions. He also serves the monastic community as Subprior and Junior Master.
Fr. Thomas enjoys writing, and he has written a few books, one about the New Testament and two filled with reflections on spirituality and culture. In addition, he and Fr. John team up to write monthly columns  for the Texas Catholic under the title "A Word to Enkindle." His hobbies include reading, writing letters by hand (he avoids staring at screens whenever possible), and playing guitar, especially when Brother Francis is around to jam with.