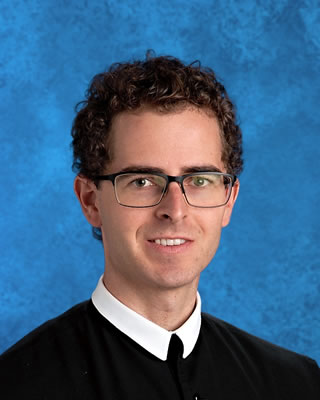 Fr. Raphael Schaner
Fr. Raphael Schaner was born in California. He attended the University of Dallas, graduating with degrees in theology (BA '10, MTh '16) and humanities (MH '13). He entered the monastery in August of 2013, making his first set of temporary vows on August 10, 2014. On August 17, 2018 he made solemn profession and on August 15, 2019 he was ordained a priest.
Fr. Raphael is the third oldest of eight children, born and raised on his family's farm in Southern California. Working alongside his parents and siblings on the farm, Fr. Raphael developed a deep appreciation for family, manual labor, Calvin & Hobbes and the natural world. A Chinese proverb hangs on a wall at the farmhouse: "When the sun rises, I go to work, When the sun goes down, I take my rest… I farm the soil which yields my food.
I share creation; kings can do no more."
Reading the proverb with reference to Our Lord, and finding the message of Christ's agricultural parables especially resonating, Fr. Raphael has always found peace in that share of creation.
Fr. Raphael attended an all-boys high school, run by Augustinians, where he first encountered the combination of religious life with a teaching apostolate.
When Fr. Raphael came to Texas to pursue his undergraduate degree at the University of Dallas, he didn't forget his agrarian roots: you can take the boy out of the farm, but you can't take the farm out of the boy. As a monk he has brought a bit of SoCal farming to the monastery (one year, unintentionally taking over Fr. Paul's garden area with winter squash, harvesting over 100 pounds of the fruit). Even amidst the hostile clay of Irving, there is good soil, yielding thirty-, sixty- and a hundred-fold.
Since joining the monastery, Fr. Raphael has continued refining his interest in screen printing and his love for farming, while exploring new interests including ceramics and wildlife photography. In the school, Fr. Raphael teaches Latin, religion and electives in art and agriculture, in addition to serving as yearbook advisor.