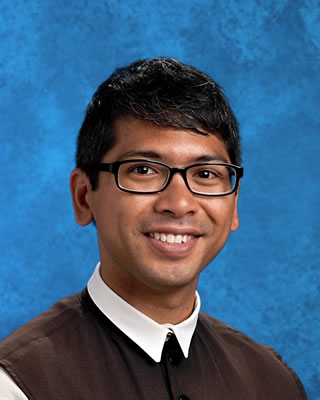 Fr. Philip Neri Lastimosa
Fr. Philip Neri Lastimosa (CPS '00) entered Our Lady of Dallas in August, 2004. He made his solemn profession on August 20, 2009, and was ordained to the priesthood one year later on August 20, 2010. He is Form Master for Class 2020 and 2028 at Cistercian Preparatory School. In addition, he teaches physics and serves as infirmarian for the Abbey.
Father Philip was born in Kentucky to parents who were Filipino immigrants. Both his parents worked in the medical field. His father was a neurologist specializing in nerve damage, and his mother was a neonatal nurse. He grew up in Irving, Texas surrounded by an extensive extended family who taught him the importance of faith, family, education, and hard work. In high school, he enjoyed participating with the Boy Scouts at the local Catholic parish and volunteering as a tutor at Our Lady of Perpetual Help. Both these activities cultivated a love of Catholicism and service.
He first thought about a vocation as a Cistercian student on his Senior Retreat. Father Paul encouraged each student on the retreat to consider a monastic vocation. Father Paul's encouragement was motivated by the monastery's great need for new vocations to help continue the Cistercian tradition at the school. Through his discernment, Fr. Philip discovered a deep appreciation for Cistercian's vow of stability, the monastery's love of prayer, and dedication to the formation of the youth.
In the monastery, he serves as infirmarian and in the school he teaches science, drafts the schedules, and serves as Form Master. In addition to his work, he enjoys a long list of playful activities: board games, card games, yo-yo tricks, puzzles, and Rubik's Cubes. He believes these hobbies keep him young at heart and humble in spirit.