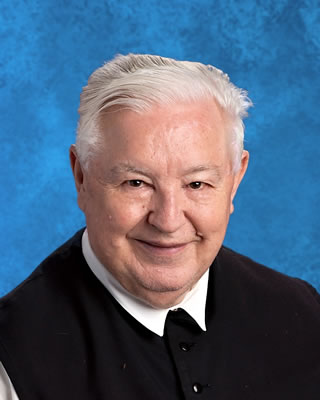 Fr. Julius Leloczky
Fr. Julius Leloczky was born in Hungary in 1932 in the provincial city of Győr. His family was running a nationally famous French pastry shop, started by his grandfather in 1885. In the family, nobody ever contested that Fr. Julius must become a baker, a confectioner to continue the family business. But man proposes, God disposes. World War II came, and by 1945 Hungary was occupied by Soviet military forces, communism was introduced in the country, and in 1949, along with all other private stores and shops, the family pastry shop was taken over by the government. The family lost their livelihood, they survived by his parents taking menial jobs. In 1950, Fr. Julius graduated in a business-oriented high school. Because he was the offspring of a bourgeois family, he was not admitted to any university. As his first job, he became an accountant in a state-owned transportation company. His deeply religious mother provided him and his two siblings a good Catholic education.
Fr. Julius first encountered monastic life at age of ten when, in 1942, still before communism, he became a student in the "gymnasium" (prep school) of Pannonhalma, the thousand-year-old Benedictine arch abbey. He spent only four years in this school, but the experiences at this great monastery sank deep into his heart. During the summer of 1950 the communist government suppressed all religious orders in Hungary. This same summer, Fr. Julius participated in a secret retreat for college-age young people; as a result of this retreat, he joined a group of young men and women who took the dangerous job of secretly teaching religion to children. His new friends led him deepen his faith, he read and learned much about religion, and he became also a daily communicant.
Finally, in 1952, Fr. Julius was admitted in a college in Budapest. He studied library science. It was there that he received his monastic vocation in quite a dramatic way. He attended Sunday Mass in the so-called University Church in Budapest where seminarians were chanting Gregorian songs. On the feast of Christ the King, as the Gregorian melodies were undulating in the church, like a cloud descended over him the awareness: "This is my place. This is where I want to spend my life. I want to be a monk."
The Cistercian Fathers continued to admit novices in secret also after the suppression of religious orders. Through Providence and a friend Cistercian priest, Fr. Julius got in touch with Fr. Lawrence 'Sigmond who, since the abbot was imprisoned, was the actual head of all the Cistercians living dispersed in Hungary. In the fall of 1953, with several other young men, he became a postulant, and on February 22, 1954, in a little room he received the white habit of the Cistercians. He was now an underground Cistercian novice. After his graduation in college, he became a librarian in succession in several public libraries. He took his first religious vows on September 18, 1955 in the hands of Fr. Lawrence, in a Budapest park sitting on a bench.
After the defeat of the 1956 Hungarian Revolution, while the western border of the country was still open, Fr. Lawrence, along with other young Cistercians, sent him to Rome to study. He took his final professions in 1960, and was ordained priest in 1961 in Austria. He immigrated in America during the summer of 1964. After spending a year with parish work and learning English, Rr. Julius started working as a librarian in both the Cistercian Prep School and the Abbey, starting building up both libraries from scratch. A few years later Fr. Julius also became a Form Master and started teaching several subjects at the school, mainly religion. He graduated the Classes of 1986 and 2000. He retired from teaching in 2011; since then he's working in pastoral service, offering Mass and hearing confessions in different churches. He is also in charge of the pastoral service of the ethnic Hungarians in North Texas.
Fr. Julius loves to listen to classical music and to play chess. He loves fiction, both in the form of novels and movies. In younger years, he enjoyed vacationing with some confreres in mountains, and taking long hikes. His favorite activity is to compose religious articles, sermons and homilies.