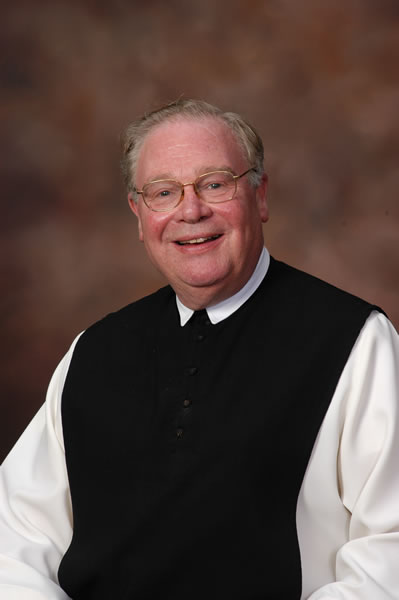 Fr. James Lehrberger
Fr. James was born in San Francisco on the Feast of the Immaculate Conception, 1943. He first attended his parish's grammar school, and then he went to one of the city's Catholic high Schools, before attending the University of San Francisco and graduating with a B.A. in philosophy. In high school he played football and became fascinated by science and history. In college he was active in politics and on the university's debating team. He loved San Francisco with its vibrant city life, as well as its nearby  snow-capped mountains, picturesque villages, red-wood forests, and nature preserves.
Receiving a fellowship to study political philosophy under Willmoore Kendall and Frederick D. Wilhelmsen at the University of Dallas' newly formed Institute of Philosophical Studies, he left San Francisco to come to Irving, Texas in 1966. During the course of his doctoral studies he began attending Mass at Cistercian. The sense that God was calling him to be a monk and priest – the farthest thought from his mind when he began graduate studies – steadily grew in him, and while writing his dissertation he entered the Abbey as a novice in 1970. He professed solemn vows in 1975 and was ordained a priest the following year. After teaching in the Abbey's school for a year he was sent in 1978 to teach on the University of Dallas' Rome campus. Upon completing his dissertation he began full-time teaching in UD's philosophy department. In 2015 he went to his current half-time teaching status.
Altogether, he spent six years in Rome as a student and professor. Saying Mass at St. Peter's basilica, visiting and praying at great Benedictine and Cistercian monasteries of Italy, savoring a cappuccino at the Trevi fountain – these are among his fondest memories. During his travels, he picked up many Roman "ways" which he brought back to Irving. Even now he is a great aficionado of espresso and, of course, pasta; his favorites are linguine vongole and (the authentic) spaghetti carbonara.
He has done a fair amount of pastoral work. In addition to hearing confessions and saying Masses at local parishes, he has had the joy of witnessing marriages and baptizing infants, usually of his former students. He also spent three years as civilian chaplain at the Dallas Naval Air Station. His one Sunday Mass a week schedule enabled him to get to know and appreciate the opportunities, challenges, and difficulties of military personnel and their families.
His greatest joy, however, has been the opportunity to teach and form the eager minds of his students. In addition to his monastic life and teaching Fr. James has studied and published, especially on the thought of St. Thomas Aquinas. While he has partly stepped back from his duties at the university, this has given him an opportunity to increase his scholarship, his prayer life, and to undertake certain pastoral initiatives.