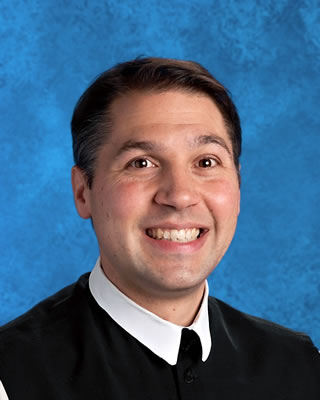 Fr. Augustine Hoelke
Fr. Augustine Hoelke was born in Dallas in 1982. He entered the monastery in August, 2004, and made his first set of temporary vows on August 20, 2005. He made solemn profession on August 20, 2009, and was ordained to the priesthood on August 20, 2010, celebrating his first Mass back at Saint Maria Goretti in Arlington, his home parish, the next day.
Fr. Augustine prides himself on being the most home-grown vocation ever to come to fruition at Our Lady of Dallas. Cistercians used to serve as visiting priests at his home parish, and so they were among the first priests he ever met. Then he followed his two brothers in attending the Cistercian Preparatory School for eight years, graduating alongside his close friend, and future monastic confrere, Fr. Philip Lastimosa, as a member of the class of 2000. After Cistercian, he attended University of Dallas, where he was taught by several more of the Cistercian fathers, graduating with a degree in Spanish (BA '04).  By the time he began seriously discerning a call to the priesthood, Fr. Augustine had perhaps been taught by more monks than anyone, and so it was only natural that he quickly ascertained monastic life in Dallas as the proper context in which to explore and live out his priestly vocation. 
As a monk, Fr. Augustine has served as a cantor in the Abbey since he was a novice, putting to good use a voice he honed in college as a member of the sacred polyphony choir and Gregorian chant schola of the University of Dallas (and as lead singer of a 70s/80s cover band). He also turns to service his lifelong love of movies, serving as informal "magister ludi" ("teacher of the fun") in the Abbey and teaching an elective on film history several times in the high school.  As a priest, he has enjoyed putting his Spanish to use in parish ministry and as a leader with the Diocesan Youth Mission trips to Nicaragua and Costa Rica.  As a teacher, Fr. Augustine has been able to pursue yet another passion of his, completing a Master's degree in History at U.T. Arlington in 2014, and teaching history and geography at the prep school. He also enjoys serving as a religion teacher, coach of the academic "Quiz Bowl" team, and head of campus ministry.  Perhaps above all other responsibilities, though, Fr. Augustine is proud and grateful to have served as the Form Master of Classes 2018 and 2026.