The Continuum, Cistercian's bi-annual magazine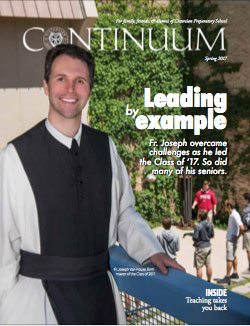 For family, friends and alumni of Cistercian
When The Continuum was first published as the newsletter for Cistercian alumni, the editors wanted to indicate by the title that continuity links the life of a student with his life after Cistercian. Alumni were still interested in the school, its faculty and its programs, and they wanted to keep up with the lives of their fellow alums. Every student was marked forever by the people they knew at Cistercian.

Today, the need for connection has grown. We want to connect the school's current families and students with Cistercian students who have already graduated and their families. Likewise, we want alumni to maintain ties, not only with their former teachers and classmates, but also with the new generation of devoted Cistercian faculty and students.

As with all relationships, we must work at preserving and building the bond. We can lose touch with even our dearest friends when we no longer share activities, interests, concerns, and goals. Alumni go to their various colleges, pursue their chosen degrees and professions, and raise their own families. Families once so close because they chaperoned a party together after a football game or cheered the Hawks on during a basketball game can find themselves searching for the occasion to keep friendships going once their sons graduate from Cistercian. The Continuum, we hope, will be one such 'occasion' for the entire Cistercian family.