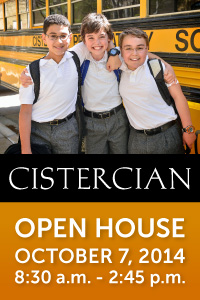 9/19

THANK YOU to everyone who contributed to Cistercian during North Texas Giving Day! The response was absolutely overwhelming, with $356,250 raised from 404 donors. We sincerely appreciate such a strong show of support in helping us continue our mission of educating fine young men in the Cistercian tradition.
8/28

Congratulations to the many talented students whose inspirational poetry, prose and art were published in the most recent volume of Reflections.
8/20

The school year is off to a great start. We are excited to see everyone back!
8/15

Fr. Justin, who has taught Latin in the Prep School for 4 years, was ordained on August 15. He will be studying this school year in the Cistercian Monastery of Heiligenkreuz, Austria—the oldest continuously-occupied Cistercian Monastery in the world. We look forward to having him teach in the school again next year.