Cheerleading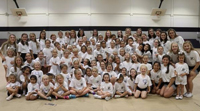 Cistercian Cheerleaders Hosts Little Hawks - Junior Hawks Cheer Clinic
The Cistercian Varsity Cheerleaders hosted a record number of girls for their annual Little Hawks – Junior Hawks Cheer clinic at the Cistercian Varsity Football game against Oakridge on Friday, September 22, 2017. The Clinic was held in memory of former Cistercian Cheerleader, Maddy Limber. A portion of the proceeds from the clinic was donated to The Madeline Limber Memorial Scholarship which benefits St. Thomas Aquinas Catholic School students in need of tuition assistance. That evening, the Junior Hawks opened the football game by running onto the field with the football players. Then at the halftime on the field, all the participants both Little and Junior Hawks performed a fabulous routine. It was a memorable night for all!
Cheerleaders Earn Top Awards at NCA Camp
The Cistercian Varsity Cheer Team attended NCA Cheer Camp this summer earning top awards while competing against over 300 cheerleaders from area schools. The team won many of the top overall awards including the Herkie Team Award, which is awarded to only one team showing true team spkirit, unity and leadership; and the Game Day Top Team Award, which is awarded to the team that exemplified the best overall Game Day ability to motivate and lead the crowd. The Individual Leadership Award was awarded to a Senior for demonstrating excellent leadership of the camp, and she was also selected to tryout for the NCA Staff! Congratulations also to the thirteen team members for being nominated to the NCA All-American Team and to the Senior who has been selected to the All-American Team and received the Top All-American score.
Please direct any questions to Coach Christine Elias.