Cheerleading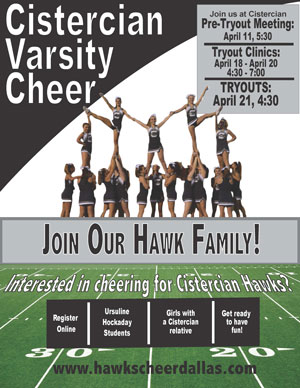 Cistercian Cheer
Cistercian Cheer Tryouts for 2017-2018 Year
All girls in grades 9th thru 12th (2017-2018 school year) that attend Ursuline Academy, The Hockaday School or have a relative connection to Cistercian (current or former family member) are welcome to tryout for the cheer team. Pre-Tryout Parent Athlete Meeting is April 11, 2017 at 5:30 in the Cistercian Gym.
The Cistercian Varsity cheerleaders support the CPS Hawks with their enthusiastic, crowd-pleasing performances and promotion of school spirit. Look and listen for the Hawks cheerleaders on the sidelines at all Varsity football games and during basketball season. Let's Go, Hawks!

Key Dates
| | | |
| --- | --- | --- |
| April 11 | 5:30 p.m. | Parent/Athlete Pre-Tryout Meeting at Cistercian Gym |
| April 18-20 | 4:30 - 7:00 p.m. | Tryout Clinics at Cistercian Gym |
| April 21 | 4:30 p.m. | Tryouts at Cistercian Gym |
For more information, visit the Hawks Cheer website.
CISTERCIAN CHEERLEADERS RECEIVE TOP HONORS FROM THE TEXAS GIRLS COACHES ASSOCIATION
The Texas Girls Coaches Association (TGCA) recently recognized Cistercian cheerleading with top honors. Four Seniors were named to the All-State TGCA team. All-State team members are selected based on a 94 or higher GPA for grades 9th through 11th with good standing and excellent moral character.
Six Cistercian cheerleaders were named to the Legacy State All-Star Team. Selection is limited to graduating seniors and only the 20 best candidates are selected by the TGCA committee.
Additionally, one Junior was named to the State All-Star Team. Only one cheerleader per school is selected to a twelve-member regional team. She will represent Cistercian at the TGCA conference this summer in Austin.
These girls will be honored at the Cistercian Sports Banquet in May.
Cistercian Cheerleaders Achieve Record Attendance at Little Hawks Cheer Clinic
The Cistercian Varsity Cheerleaders hosted a record number of girls for the Little Hawks Cheer Clinic at the Cistercian Varsity Football game against Trinity Valley on Friday, September 9. The clinic was in memory of former Cistercian Cheerleader, Maddy Limber, who passed away in July 2016. A portion of the proceeds from the clinic was donated to The Madeline Limber Memorial Scholarship which benefits St. Thomas Aquinas Catholic School students in need of tuition assistance. The Little Hawks opened the football game by running on the field with the football players and performed a routine at half-time. It was a memorable night for all!
Please direct any questions to Coach Christine Elias.