Welcome Cistercian Alumni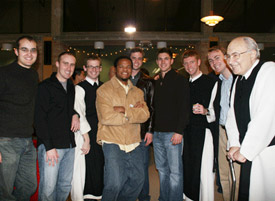 All Cistercian graduates belong to the Cistercian Alumni Association, and we encourage everyone to participate in the life of the school.
The Cistercian Alumni Association's purpose is:
To foster alumni loyalty and support while promoting the welfare of the School.
To establish closer relations between the School and its alumni and to represent alumni interests and concerns.
Let us hear from you!
Check out upcoming news and events. For additional suggestions and ideas for Alumni programs, contact Erin Hart, Director of Development and Alumni Relations, at 469-499-5406.
Resources and Information: