Test Dates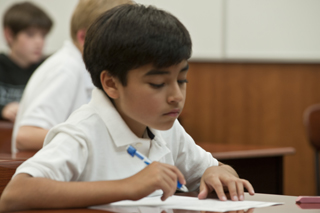 Forms I and II
(Grades 5 & 6):
Saturday, January 28, 2017

Forms III through VII
(Grades 7 through 11):
Saturday, February 4, 2017

Applicants should arrive at the main entrance of the Middle School no later than 8:45 a.m. The admissions test begins promptly at 9:00 a.m. and is over by 12:30 p.m. The school supplies all testing materials. The boys are given several breaks, one of which includes juice and crackers in the cafeteria. They also take a short tour of the campus with some of our Upper School students.
While a prospective student is taking his admissions test, Upper School students conduct tours for the parents from 9:00 - 10:00 a.m. At the end of the tour, our Headmaster meets with interested parents to discuss the testing procedure, the admissions decision process, and various programs aspects of our Middle and Upper School programs. This one-hour session concludes with a short question-and-answer period. During the remainder of the morning, parents are free to relax, stroll around the campus, or visit further with the Cistercian tour guides and faculty.
Cistercian Preparatory School does not discriminate in the administration of its admission and education policies on the basis of race, color, religion, or national or ethnic origin.
For more information:
Contact admissions@cistercian.org or 469-499-5400.