Open House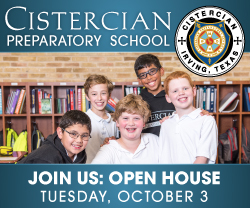 Open House Dates for 2017-2018
Fall Open House
Tuesday, October 3, 2016
8:45 a.m. - 2:45 p.m.
Prospective students and their parents are encouraged to visit the campus and attend classes for a day. In the Fall, Attend any Middle or Upper School classes (Spring – only Middle School) in progress. Open houses are informal come-and-go events. No reservations are needed. All prospective students must be accompanied by a parent. Visitors can see the boys "in action" in their classrooms, meet the teachers, and talk with our Parents' Club members.
Resources
Cistercian Preparatory School does not discriminate in the administration of its admission and education policies on the basis of race, color, religion, or national or ethnic origin.
For more information:
Contact admissions@cistercian.org or 469-499-5400.