How to Apply
Cistercian uses Ravenna. Ravenna is a web-based application service for the registration of events and for submitting an inquiry or application.

How to start
To begin your application, go to Ravenna and create an account. Make sure to create your account using an email address you will have access to throughout the admission season as this will be your primary email contact with our school.
Support or Help
If at any point you should have a question about Ravenna and your application, please contact them at help@ravennasolutions.com. Ravenna is happy to answer your inquiry by phone, however, they require that all support inquiries are initiated through the email address you used to create your Ravenna account. It is important that they are able to validate your access to any information about your applicant's account to protect your privacy.
Admission Timeline
Open House and Campus Tour:
The Fall Open House is Tuesday, October 3, 2017 from 8:30 a.m. - 2:45 p.m. This is the one date in the Fall schedule when our classes are open to visitors. Applicants and their parents are encouraged to visit the campus and attend classes. Upper School Middle School classes are open to visitors. Campus tours are available by appointment during the school year.
Cistercian holds two Open Houses per school year, one fall event in early October and the other spring event in early March.
2018-19 Application: Due January 15, 2018
The application for the 2018-2019 school year is available now using the Apply Online link. Applications received January 16 – January 26 will be accepted and considered on a space availability basis. A $25 late registration fee will apply.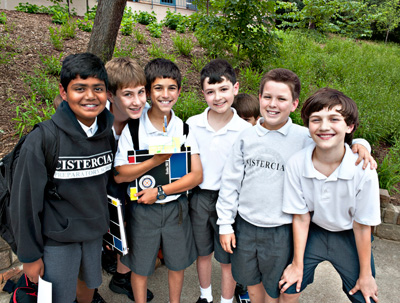 Record Release and Teacher Evaluation Forms: January 25, 2018
Teacher evaluation(s) must be received directly from the applicant's current school. We request recommendations from the applicant's current English teacher and current Math teacher.
Immunization Records: January 25, 2018
Like all other schools in the Diocese of Dallas, Cistercian does not accept exemption affidavits for any reason. Submit your son's current and up-to-date immunization records to the school prior to admissions testing. Students without immunizations will not be considered for admission.
Admissions Exam:
Saturday, January 27, 2018 (Forms I and II, Grades 5 and 6)
Saturday, February 3, 2018 (Forms III – VII, Grades 7 – 11)
Cistercian utilizes its own entrance exam and not the ISEE. Details about testing date are located on the Test Dates page. Applications to grade 10 and 11 are accepted on a space availability basis only.
Student Interviews:
Student interviews at Cistercian are an informal observation that is conducted on the applicant's assigned test date.  No additional appointment or formal interview is required. Cistercian does not conduct shadow days.
Cistercian Preparatory School does not discriminate in the administration of its admission and education policies on the basis of race, color, religion, or national or ethnic origin.