Further Growth and Expansion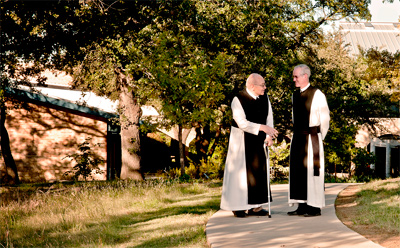 In the late '70s it became clear that a solid sports program, diverse extracurriculars, and financial stability called for increased enrollment. This became possible through the creation of new classrooms and the addition of a separate science building, constructed under Fr. Bernard Marton, the third headmaster (1981-96). In 1992, the School and Abbey built Cistercian's magnificent church to accommodate the needs of the increased student body and the Abbey. Fr. Peter Verhalen, the first alumnus to serve as headmaster (1996-2012), oversaw the full expansion of the enrollment to 350 students and built out the campus to include a library and art building (1998), renovated track and athletic fields (2000), a music room and theater (2002), and the addition of a new gymnasium (2003).
Starting the Next 50 Years
With a successful 50th Anniversary Capital Campaign, Cistercian acquired undeveloped land to its east, expanding to its current 82 acres and providing a much appreciated buffer from any neighboring development. Furthermore, both the Upper School (2008) and Middle School (2009) buildings were completely renovated to update heavily used classrooms, increase energy efficiency, and introduce modern technology. In 2012, Fr. Peter was elected Abbot, and Fr. Paul McCormick succeeded him as Headmaster. Realizing the final fruits of the campaign, Fr. Paul oversaw construction of a new entrance, chapel, and courtyard (2014). This project has provided much needed additional office and seminar space, united the campus geographically, and includes a beautiful sanctuary for prayer and quiet reflection in the heart of the School. The future of Cistercian as a School and Abbey has been guaranteed for the next generation by the influx of 13 young men who have entered the monastery beginning in the year 2003 and are already teaching, coaching, and mentoring in the School as they live out their vocations of prayer and priestly ministry. Sixteen monks are currently teaching in the school.