Foundations in History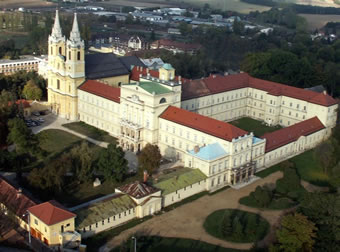 Cistercians draw inspiration and wisdom from several traditions. Most ancient is the Catholic Christian Tradition expressed in the Old and New Testaments and in the living doctrine of the Church. This Tradition, the only one spelled with a capital T, is the foundation for Cistercian.
We also draw on the tradition of Western monasticism, a way of life that found its classic formulation some 1500 years ago in the Rule of St. Benedict. The monastery's main function, St. Benedict wrote, is to become "a school for the Lord's service" in which the monk listens for the Word of God in order to let the Word shape him and his relationships.
The Cistercian tradition itself dates back 900 years to the foundation of the monastery of Cîteaux (Cistercium in Latin) in France. The first Cistercians sought to follow St. Benedict's Rule more "authentically" by living a life of simplicity, by "being poor with the poor Christ," by balancing prayer and work, and by recovering in their own day the fervor of the earliest Christian community which gathered around the apostles.
In the 18th century, Cistercians were faced with the upheavals of modern times – the French Revolution, the Enlightenment, Josephinism, the secularization of society. The Cistercians of the Abbey of Zirc in Hungary responded by forging a new tradition. They combined the education of youth in secondary schools together with their monastic life.
Almost two hundred years later, monks from the Abbey of Zirc found their way of life threatened once again. The post-war Communist regime in Hungary suppressed the abbey's five schools and drove many of the monks into exile. Led more by Providence than by any well-planned strategy, this group of monks eventually brought their tradition of monastic life to Texas.
Continue: The Cistercians in Texas