Abbey Announcements
Announcement Regarding Abbey Crypt
To the relatives of our deceased monks:
Fr. David Balas (aka Laszlo Balas)
Fr. Leonard Barta (aka Jozsef (Joseph) Barta)
Fr. Placid Csizmazia (aka Lajos Csizmazia)
Fr. Odo Egres (aka Jozsef (Joseph) Odo)
Fr. Victor Falubíró (aka Miklos Falubíró)     
Fr. Thomas Fehér (aka Jozsef (Joseph) Fehér) 
Fr. George Ferenczy (aka Gyorgy Ferenczy)
Fr. Aloysius Kimecz (aka Janos (John) Kimecz)
Fr. Pascal Kis-Horvath (aka Mihaly Kis-Horvath)
Fr. Matthew Kovacs (aka Gyorgy (George) Kovacs)
Fr. Louis Lékai (aka Gyula Lékai)
Fr. Ralph March (aka Rudolf Maitz)
Fr. Henry Marton (aka Istvan Marton)
Fr. Benedict Monostori (aka Jozsef (Joseph) Monostori)
Fr. Anselm Nagy (aka Sandor Nagy)
Fr. Christopher Rábay (aka Istvan Rábay)
Fr. Lambert Simon (aka Gyula Simon)
Fr. Balthasar Szarka (aka Istvan Szarka)
Fr. Damian Szödényi (aka Istvan Szödényi)
Fr. Rudolph Zimanyi (aka Ferenc Zimanyi)
Fr. Joseph Nagy (son of Imre and Jlona Nagy)
These deceased monks are buried at Calvary Hill Cemetery in Dallas, Texas.  The Monastery is building its own mausoleum adjacent to the Monastery's Church at 3550 Cistercian Road, Irving, Texas 75039.  The Monastery has requested a court order allowing it to move the remains of the deceased monks from Calvary Hill Cemetery to the new mausoleum.
The nearest relatives have the right to consent or object to the request.  If you are related to any of the deceased monks and wish to consent or object to the request, please contact the 44TH District Court of Dallas County, 600 Commerce Street, 5TH Floor, Dallas, Texas 75202, and reference Cause No. DC-16-02782, In Re:  The Mausoleum of Cistercian Monastery, Our Lady of Dallas, Inc.
For additional information, contact Jim Hartnett, Jr. at The Hartnett Law Firm, 2920 N. Pearl Street, Dallas, Texas, U.S.A. 75201 (telephone 1 + 214.742.4655).
Funeral of Mother Paula Hannah, O. Cist.
On February 19, 2016, Mother Paula Hannah, prioress emerita of Valley of Our Lady Cistercian Monastery, passed away. She was the second American woman to join the Swiss foundation. After her election as prioress in 1978, she guided the young community for several years until illness brought her to resign in 2005.
Mother Paula was beloved by her sisters, and her efforts to form the new community in faith and religious obedience were crucial, especially during what was for many a difficult period of time following Vatican Council II. In the early 2000's, she began noticeably to decline from Alzheimer's disease, a condition she learned to accept with grace and good humor. After resigning from the office of prioress, she continued to teach classes to the young sisters based on St. Thomas Aquinas's Summa Theologiae; her most frequent lesson was, "You know, all that really matters is that we get to heaven."  In spite of her illness, to her dying day she continued to teach her sisters how to abandon oneself completely to God.
Before her funeral on Wednesday, February 24, the sisters kept an all-night vigil with her body, which was held in an open casket before the altar. Abbot Peter accepted the invitation of the sisters to be the main celebrant for the funeral. Three parish priests from the area also concelebrated, as did two Cistercian monks from a small Polish foundation in Chicago, Abbot Dominic and Fr. Konrad. The very small chapel of the sisters (ten pews) was packed with relatives and friends of the monastery.
She will be buried in the monastery cemetery. May she rest in peace!
Honor for Abbot Emeritus Denis Farkasfalvy
Photo © Catholic Foundation
On Friday, February 19, the Catholic Foundation of Dallas honored Fr. Denis Farkasfalvy, Abbot Emeritus of the Our Lady of Dallas, for his years of service to the school, the abbey, and the larger Catholic community in Dallas and around the world. The occasion was a celebratory dinner, at which the Foundation made a $10,000 donation to a charity chosen by Fr. Denis in his honor. He chose to dedicate the funds to Valley of Our Lady, a Cistercian monastery in Wisconsin, where the nuns are hoping to repair their dilapidated buildings, so that they last until a new monastery can be constructed in the future.
Almost 1,600 guests made this the largest group ever to attend the event in its 34-year history. The honorary dinner was a highlight not only for Fr. Denis, but also for the Cistercian community at large.
You can find more information about the event on the Catholic Foundation website. On the website, you can find an exceptional, 14-minutevideo that traces Fr. Denis's life as well as much of the history of our abbey and school.
Congregational Chapter
From February 16 to 17, the Congregational Chapter of the Congregation of Zirc of the Cistercian Order met at Our Lady of Dallas for its regular meeting,  which takes place once every three years. The last congregational chapter was held at St. Emery, a Cistercian house in Budapest in June, 2013. This was the first time the meeting took place outside Hungary, and the first time for the Hungarian members of the chapter, apart from Archabbot Sixtus, to visit the monastery in Dallas. The chapter provided a wonderful opportunity for our confreres from Hungary to learn about our life here in Dallas. In addition to Abbot Peter and Dallas delegates Fr. Thomas and Fr. Bernard, also present at the chapter were Archabbot Sixtus, abbot of Zirc and abbot president of the congregation, along with two delegates from Zirc, Fr. Hippolytus and Fr. Maurus, and Abbess Olga of the Abbey of Kismaros and their delegate, Sr. Zita.
Each of the three superiors – Abbot Sixtus, Abbes Olga and Abbot Peter – presented the status of his or her community to the chapter. In addition, the participants in the congregational chapter elected the members of the President's Council: Abbot Peter, Abbess Olga, Sr. Zita, Fr. Bernard, Fr. Tomas, Fr. Hippolytus and Fr. Maurus. All in all, the congregational chapter provided a very important opportunity for the monks and nuns of the Congregation of Zirc to learn more about each other and to promote the bonds that bind their monasteries together in Christian solidarity and monastic fraternity.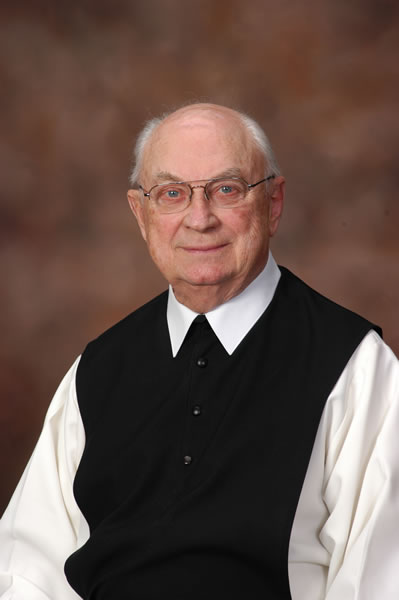 Funeral of Fr. Ralph March, O. Cist.
On February 6, 2016, Fr. Ralph died in his room at the monastery. His funeral was celebrated on Tuesday, February 9th in the Abbey Church. His health had been declining for several months beforehand, and for the final few days he was confined to his bed. He died peacefully, surrounded at various times by his brothers and nurses in the monastery. Just a day before the community gathered in his room to pray the ritual for the commendation of the dying.
At the time of his death, he was just two weeks short of his 94th birthday and had recently celebrated his 70th anniversary of ordination to the priesthood last spring. Until his death he was the oldest living member of Our Lady of Dallas.
In addition to serving for years at St. Bernard Parish and organizing the diocesan choir, he taught chant for many years at the University of Dallas and directed several choirs in the diocese. Beforehand he had directed the choir of Cologne Cathedral for several years and taught music at various institutions in Europe. His full obituary can be found here. May he rest in peace!
Life, Illness and the Liturgy of the Hours
Every morning, Our Lady of Dallas is blessed by the presence of so many men and women who come to Cistercian for Morning Prayer and Mass. The monks often speak to each other about how edifying and encouraging it is to be joined so regularly by the faithful in praying the liturgy of the Hours and in celebrating the Mass. One or two often arrive early enough to open the church with the monks, joining them just after 5:30 AM for a time of spiritual reading and private prayer. By the time Mass begins at about 6:35 AM, there are usually between thirty and fifty people, ready to begin their day with prayer before moving off to do their work in the world. Recently, several noticed something different about one woman who comes to Cistercian in the morning. The following is an excerpt from an interview with Kelly Lautzenheiser, a nurse practitioner who stops by Cistercian for Morning Prayer and Mass before going to work.
When did you first come to Cistercian?
The first time I ever went to Cistercian was several years ago for First Friday mass. It was very moving to see all the priests gather around the altar for the consecration. At that time in my life I wasn't able to attend daily mass but I was able to go every once in a while. Three years ago my work schedule changed and I began going to daily mass at Cistercian. When I would arrive, the monks were finishing Morning Prayer and I loved it.
You often arrive in time to pray Morning Prayer with the monks. When did you begin praying the Liturgy of the Hours?
A dear friend introduced me to the Liturgy of the Hours many years ago when we were on a retreat at Mt. Carmel Center. We would pray it together on the phone or I would pray it on my own every once in a while. I noticed one lay person at Cistercian every morning participating with the monks. In 2013, I decided to attend Morning Prayer once a week during Lent. I went the first day and stumbled through it but loved it so I went the next day and the next. When Lent was over I continued going. I feel very blessed to be able to participate in such a beautiful and sacred tradition, gathering together to give praise to God at dawn. So, now I get up at 5 AM and leave the house by 5:35 to arrive at Cistercian a few minutes before Morning Prayer begins. Mass is usually over by 7:05 and I am at the hospital ready to see patients at 7:30 AM.
So, you work in a hospital. What exactly is your profession?
I am a pediatric oncology nurse practitioner and have been caring for kids with cancer for 24 years. It is what God has called me to do and it is only by His grace that I am able to do it. When I tell people what I do, I often find it stops the conversation. People don't want to think about children suffering and dying. As Catholics, we are called to embrace suffering, care for the sick and "weep with those who weep" (Romans 12:15). It is a difficult vocation and I call upon God throughout my day. I pray for my patients and their families. I pray for the right words before going to speak with a new family, for peace when my heart is breaking after helping a family through the devastation of a relapse or the death of a child.
How does your routine of daily prayer shape your life and work?
Cistercian provides a place of peace where God renews my spirit. The psalms we pray during the Liturgy of the Hours express so many of the struggles and emotions that we deal with each day and provide me comfort. I also love to go to Cistercian after work, if time allows and the weather is nice, and sit on a bench and journal or walk the trail with the Stations of the Cross.
I am in awe of my patients and their families. Their courage and faith help me to keep my own struggles in perspective and to try to live a life of gratitude. I witness miracles every day at the hospital: kids mastering their fear of needles and procedures, families returning to the hospital after their child dies to offer support to other families and so much more.
You recently had your hair cut in a pretty dramatic way! Can you explain?
Well, I had my hair cut in order to support a charity, St. Baldrick's Foundation. This was my third time to donate my hair, which will be used to make a wig for someone who has lost their hair due to their cancer treatment. However, the purpose of totally shaving my head is to raise money for childhood cancer research and to show solidarity with my patients. It is a small thing when compared to the battle these children are fighting. Over the years I've seen cure rates increase dramatically for certain childhood cancers because of research but there are many children who still die and more research needs to take place. If one is interested in learning more about this organization, he or she could visit www.stbaldricks.org.
Stargazing with Fr. Brown of the Vatican Observatory
On Tuesday, December 16, a few monks and friends of the Abbey gathered for the first "star party" on Cistercian grounds. They were joined by two guests of honor: a brand-new, 8-inch Celestron CPC Series telescope and a special friend from the Vatican Observatory in Rome, Fr. David Brown, SJ.
In the summer of 2012, Fr. John Bayer and Mr. Tim Parker represented the theology and science departments of Cistercian Prep at The Steno Learning Program, a week-long seminar for high school teachers interested in acquiring and promoting in their schools a deeper understanding of the relationship between faith and science from a Catholic perspective. Thanks to the generous support of the Templeton Foundation, the seminar was able to provide Cistercian and other high schools in the United States with hundreds of dollars worth of books, as well as the possibility of obtaining a grant to be used for the promotion of the relationship between faith and science. Thankfully, Cistercian applied and received such a grant. With the money from the grant, a telescope was purchased for the school, which will be used in the future for various educational and community activities.
On Tuesday, the Jesuit priest Fr. Brown visited his friends at Cistercian and taught them how to use their new telescope. By profession, Fr. Brown, a Lousiana native, studies stellar evolution at Castel Gandolfo in Rome, Italy. Castel Gandolfo is the summer residence of the pope and the home of two dome telescopes, both of which were state-of-the-art at their inauguration in 1935. These telescopes belong to the Vatican Observatory, one of the oldest scientific institutions in the world, but their use and maintenance were entrusted to the Jesuit Order by Pius XI. In spite of hazy skies and the large light pollution of Dallas, Fr. Brown was able to teach the monks how to use Cistercian's new telescope and even to find the Pleaides star cluster, to the delight of all those in attendance.
Keep Cistercian in your prayers! May we use this telesope, and all the gifts we receive, for the sake of the salvation of all and for the glory of "He who made the Pleiades and Orion, who turns darkness into dawn and darkens day into night […], whose name is Lord" (Amos 5:8-9)!
Fr. Ignatius in the News
We are proud to relay that Fr. Ignatius was recently interviewed by the Dallas Morning News about his artwork. In the article, Fr. Ignatius offers some comments about the origin of his vocation and what motivates his art. The article can be found here, and samples of his artwork can be seen here on our website.