Abbey Announcements
Beatification of the Martyrs of Casamari
On April 17, 2021 the six martyrs of Casamari, who were killed in 1799, were beatified. The beatification was presided over by Cardinal Marcello Semeraro, Prefect of the Congregation of the Causes of the Saints. More details about the martyrs can be found in an article at Aleteia. In addition, the website of the Cistercian Order has a few pictures of the ceremony in the beautiful church of Casamari.
Cistercian Abbot General Mauro-Giuseppe Lepori gave a speech at the end of the beatification. In it he remarked, "One who accepts grace acquires a beauty of humanity that nurtures in all the desire to live in this same way. The splendor of the saints rekindles the desire that inspired the "Here I am" of each of our vocations, the flame of that "first love" (Rev 2:4) which, we must confess, we often let become a "smoldering wick" in the course of our life. The saints rekindle the desire of the first love of Christ and for Christ, reminding us that this too is a grace by which we should let ourselves simply be lighted and burn, offering it the fuel of our everyday humanity."
May the Martyrs of Casamari rekindle our love for Christ and inspire us to live our vocations in such a beautiful manner!
Passing of Fr. Bede Lackner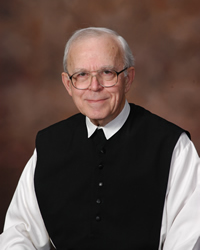 Fr. Bede
On the morning of Tuesday, November 10, our confrere Fr. Bede Lackner passed away from sepsis in the hospital at the age of 92. After suffering a stroke last year he had spent much of his time in his bed, leaving only for regular walks with his two nurses and with the monks. Despite his physical suffering, he remained peaceful and grateful. Thankfully, Abbot Peter, Fr. Joseph and one of his nurses were able to be with him at his passing.
You can learn more about Fr. Bede by reading his obituary here. On Friday, November 13, at 7:30pm there will be a rosary with testimonials in the abbey church. On Saturday, November 14, at 10:00am we will celebrate his funeral. Both services are open to the public, but with limited capacity on account of the pandemic. Both ceremonies will also be livestreamed on our CistercianDallas YouTube channel.
All Souls' Day Mass
Our annual All Souls' Day Mass will be celebrated on Monday, November 2 at 7:30 p.m. in the Abbey Church with limited seating and our usual protocols. We will also broadcast it live on our Cistercian YouTube Channel. Please join us as we intercede for all our loved ones.
Re-opening Mass & Confessions at the Abbey (Updated 9/26/20)
With the protocols for re-opening our school during the pandemic in place, we are happy to announce that we are now able to re-open our masses to the public. On Monday, September 7 we openned our 6:30 AM daily mass, and on September 13 we openned our Sunday mass. Accordingly, the last day for our livestream was Sunday, September 6. In addition, beginning September 30 a priest will be available to hear confessions on Wednesdays from 4:00-5:00.
Given the size of the space, the maximum number of worshippers we can host at mass in the church is 100. This number is higher than the approximately 50 persons that usually attend our daily masses; however it is significantly lower than the approximately 250 persons that usually attend our Sunday masses. Accordingly, on Sundays we will have ushers help those who come to mass find a seat and determine when we have reached capacity. Unfortunately, those who arrive after we reach capacity will be asked to look elsewhere for a Sunday mass.
Those who attend mass must wear a mask at all times. Following CDC guidelines, we also ask that children above the age of two years old wear a mask. Worshippers should enter the front of the church through the abbey lobby. All the other entrances to the church will be locked (from the outside). At least two monks will be present to receive and count the number of people who enter. They will allow 100 people into the church, and 20 more to remain in the lobby. The front doors will be locked at 9:00am, or as soon as we have received 120 people. Attendees should sit by household, and six feet of social distancing should separate one household from another (alternating pews have been blocked off). After mass, two ushers will open the wooden doors at the back of the church, and the main celebrant will invite the back pews to exit first and to move far out onto the lawn, so that there is no congestion at the exits and so that anyone who wishes to visit after mass can do so with sufficient social distancing.
Directions regarding the procession for the distribution of the Holy Eucharist will be announced at mass. In the meantime, we ask those receiving the Eucharist to keep their masks on until they are just about to receive, to receive the Eucharist with reverence in the hand, and then to return to their seat in the church. One side of the church will be invited to process before the other, so that there is only one side or line coming forward at a time. We ask those who wish to receive the Eucharist on the tongue to come at the end of the procession. The priest will disinfect his hand after each communicant (this is a precaution taken in case the hand of the priest touches the tongue of the one receiving). It is our hope that these guidelines will minimize the risk of infection, increase the peace of those in attendance, and allow us all to continue to worship together in the coming months.
Please check here for updates in the coming weeks.
Holy Mary, under whose motherly eye we come here to serve God, protect us and this place from the spread of sickness, and bring healing and peace to the afflicted.
Br. Matthew Renews His Temporary Vows
On Sunday, August 20, 2020, Br. Matthew Hegemann renewed his temporary vows of obedience, stability and conversion to the monastic way of life for three years at Our Lady of Dallas. During this time he will continue his studies of theology for the priesthood at the University of Dallas, in addition to teaching part time at Cistercian Preparatory School and discerning God's will for his life.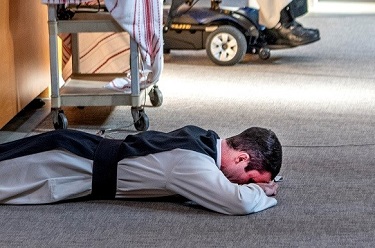 Br. Matthew lies prostrate to petition to renew his vows.
Br. Matthew renewed his vows during Sunday mass with the monks and a few members of his immediate family. On account of the coronavirus, the abbey was unfortunately not able to open the ceremony to the general public, nor host a reception afterward. Many family and friends of Br. Matthew and the Cistercian communiy were able to watch the liturgy livestreamed on the CistercianDallas YouTube channel. Br. Matthew essentially made the same vow on Sunday that he made three years ago: to live in the monastery and keep its way of life for three years. Nevertheless, things felt different this time. As he said, "At my renewal of temporary vows I felt very much at peace and confident, whereas the first time I took vows I still had a lot of uncertainty about the future and my ability to integrate into our community life and our apostolate. Over the past three years, I've noticed my own personal growth as a monk, taking on more responsibilities and finding my place in this community. While I still have much to learn and to give, I feel reassured that God has provided and will continue to provide me with the strength to persevere and to serve this community and my brothers in the future."
When asked about what he has learned so far as a junior monk, Br. Matthew replied, "I've learned to stop worrying as much about the future, focusing rather on what God is asking of me today. Fortunately, the answer to this question is often enough just to continue along the path God has already set out – being a faithful monk by praying the Office, fulfilling my responsibilities at the Prep school and the University, and spending time with my confreres. I've found that my own stress and anxieties were often tied to worries about the future, but God doesn't ask us to carry that burden. Rather, He frees us of that burden and allows us greater freedom to serve others and to build a more intimate relationship with Him." It is safe to say that such a lesson is sage advice for all of us, especially during these times of pandemic and uncertainty! Please keep Br. Matthew and the rest of the Cistercian community in your prayers. And let us pray together for greater peace and fraternity in our country and our world.
Passing of Fr. Denis Farkasfalvy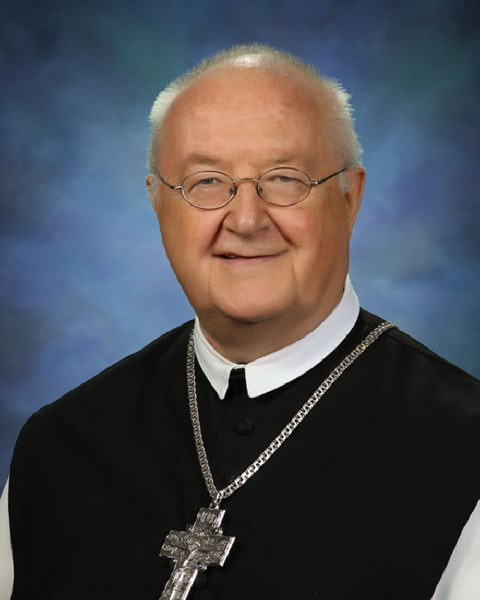 Fr. Denis
Fr. Denis Farkasfalvy, our beloved brother in Christ, former Headmaster, and former Abbot of Cistercian Abbey Our Lady of Dallas, passed away peacefully at 10:40pm on May 20, 2020, accompanied in the hospital by several monks.
His obituary is available in several languages in the necrology section of our website ("Our Fathers"), or it can be accessed in English here. For a sense of his life, one could also watch the wonderful video produced by the Catholic Foundation when they honored him with their award in 2016.
The monks received his body on Sunday, May 24 and then processed with him around the cloister, as is customary, before praying a rosary for him later that evening at 7:30pm. After the rosary, three testimonials were offered by Mr. Gregory Novinski ('82), Fr. Thomas Esposito, and Mr. Jim Moroney ('74). On the following day, Monday, May 25, the monks celebrated his funeral mass at 2:00pm and then buried him in the abbey crypt. Because of present circumstances, these liturgies were unfortunately closed to the public, but they can still be seen on the CistercianDallas YouTube channel. We will schedule at a future date an in-person Mass and reception for Fr. Denis.
Let us all pray for the repose of Fr. Denis' soul, even as we give thanks for this wonderful teacher, priest, monk, abbot, and man who has touched and blessed countless lives.
May he rest in peace.
Sundays Without Mass? Practice Spiritual Communion.
Despite the temporary suspension of public masses in the Dallas diocese, there are many ways for the faithful to celebrate their faith and enjoy a Sabbath rest, including watching the mass online (click here to visit the Cistercian YouTube page and see livestreams of our morning and evening liturgies). One very powerful way to join the celebration of the Eucharist from afar is the traditional practice of "spiritual communion."
What is spiritual communion? If for some reason we cannot receive sacramental communion through the Holy Eucharist, we can receive Christ by our desire for the Eucharist. This is known in the tradition as the practice of spiritual communion. One Cistercian monk, for example, practiced spiritual communion when he was denied the opportunity to attend mass after being forced into military service after World War II by the communist government in Hungary. He tried to find time, on Sunday if possible, to spend a few minutes alone to practice this form of communion. The risen Christ shares in the Father's almighty power, and while he has bound himself irrevocably to his sacraments, he is not bound by them – and thus he can join us to himself in other ways known to him.
Jesus wants communion. He desires to be united with us infinitely more than we could ever desire him. He asks Peter three times: "Simon, son of John do you love me?" (Jn 21:15-17). He tells all his disciples: "Whoever loves me will keep my word and my Father will love him, and we will come to him and make our dwelling with him" (Jn 14:23); and, again, he says to them, "Remain in me as I remain in you" (Jn 15:4). There are even more expressions of Jesus's longing to be with us in the gospels and especially in John 13-17.
How can we practice this communion, now that the coronavirus prohibits us from celebrating masses together? Here is a simple rite for "Eucharist by Desire" or "Spiritual Communion".
1. Find a quiet place.
2. Make the Sign of the Cross.
3. Perform the Penitential Rite: a) reflect on your sins and failings to love as Christ called us all to love; b) say an Act of Contrition; c) ask for the grace to love Christ as He has loved us.
4. Read and reflect on a passage from Scripture, especially the readings for the mass of the Day, which can be found here at the website of the US Catholic Conference of Bishops. The publishers of Magnificat, a widely read Catholic periodical, are also providing free access to many of their resources (click here), which include the readings for the mass and materials also for children.
5. Ask Jesus to come into your soul with these or similar words: "I wish my Lord to receive you, with the purity, humility and devotion with which your Most Holy Mother received you, with the spirit and fervor of the saints."
6. Allow Jesus to work freely in your heart, to uproot self-centeredness, burn out vices, mold you into his likeness. Let his image in you – the deepest and most personal truth about us all – be restored to its original beauty. May he lend you his own love so that you may love everyone, especially those entrusted to you, with his own love. Love with him the entire Church, along with all those who suffer in our world, especially those who suffer without faith and hope.
7. Conclude with thanksgiving and the request that we may carry Christ within us the whole day long. Spiritual communion may be condensed into a few minutes but it may also last as long as we have time. What matters is the action of Jesus in our souls, and the sincerity of our devotion in response.
There are certainly other possibilities for spiritual communion. For example, one can also pray the Anima Christi, a favorite of many saints, especially St. Ignatius of Loyola, or a similar prayer.
"Soul of Christ, sanctify me. Body of Christ, save me. Blood of Christ, inebriate me. Water from the side of Christ, wash me. Passion of Christ, strengthen me. O good Jesus, hear me. Within thy wounds hide me. Separated from thee let me never be. From the malicious enemy defend me. In the hour of my death call me. And bid me come to thee, that I may praise thee with thy saints forever and ever. Amen."
Endowed Scholarship in Honor of Fr. Placid
On Tuesday, November 19, members of the Cistercian and University of Dallas community gathered at the university to celebrate the endowment of a new scholarship to benefit classics majors at the university. The endowment ($50,000) was made possible by an anonymous donor in honor of Fr. Placid L. Csizmazia, O.Cist. A report on the event can be accessed here on the University of Dallas website, and a video of the speeches by President Hibbs, Dr. Sweet and Abbot Peter can be accessed here.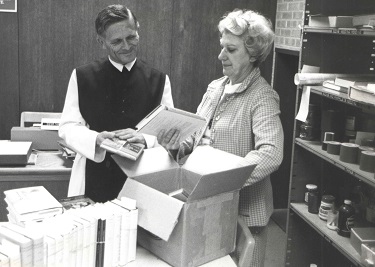 Fr. Placid opening books at the University of Dallas.
Fr. Placid was a member of the community at Our Lady of Dallas from when he arrived to the United States in 1965 until his death in 1999. He was born in Hungary on October 26, 1915, and he entered the novitiate of the Cistercian Abbey of Zirc upon graduating from the Cistercian School of Budapest in 1933. He studied philosophy and theology first in Zirc and then in Budapest, and obtained a master's degree in three languages (Latin, Greek and German).  He was ordained to the priesthood in 1940.  With the highest distinction ("Royal Ring"), he obtained his Ph.D. in Latin in 1943. For the next seven years he taught in the Cistercian School of Budapest.
After the suppression of the Cistercian Order in Hungary (1950), he began teaching Russian, a language he learned during the war and subsequent Russian occupation. Until 1962 he actively participated in the clandestine formation program by which the Cistercians continued their existence. Harassed and intimidated for such activities, he left the country in 1965 and came to the United States where he joined his exiled brothers in the Cistercian Abbey Our Lady of Dallas.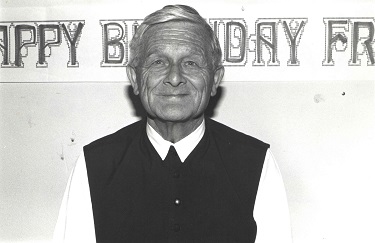 Fr. Placid at the University of Dallas on his birthday.
He first taught Latin and German at Cistercian Preparatory School, where he also served as Assistant Headmaster for three years (1968-71). For the rest of his active life he taught Latin, Greek and Russian at the University of Dallas. He retired from teaching in 1992, but continued to tutor students in Latin, Greek, Russian and Hungarian until his death. 
A man of exceptional intellectual talents, Fr. Placid dedicated his life to the ideal of living as a monk, priest and teacher. Precision, organization, peaceful friendliness and enthusiasm marked a tireless and diligent man, his life and work. The community of Our Lady of Dallas is very grateful that his legacy will be continued through the creation of this endowment.
Mass of Thanksgiving for Fr. Zak Boazman (CPS '10)
Fr. Zak Boazman celebrated a Mass of Thanksgiving during our Conventual Mass on Sunday, September 15. Many classmates, friends, and faculty of Cistercian Preparatory School joined our regular congregation for a standing-room-only celebration.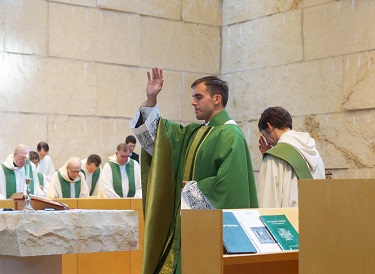 Fr. Zak Boazman ('10) gives the congregation his blessing.
In 2002 Fr. Zak first came to Cistercian Preparatory School as a fifth grader, joining the Form that Fr. Mark served as Form Master. Eight years after Zac arrived, he was delivering the valedictorian's address at graduation. After Cistercian Zak went on to earn a math degree, completed in a little over two years, at the University of Oklahoma. While at university, he discerned a vocation to the diocesan priesthood, there for the Diocese of Oklahoma City. He completed his priestly formation at the seminary in Denver, where he also discovered that he has a strong, lovely singing voice.
In his homily Fr. Zak spoke of the priest as an intercessor and as a spiritual father. In ministry, Fr. Zak joins Cistercian alums Fr. Antony Tinker '03, superior of the Franciscan Friars of the Holy Spirit in the Diocese of Phoenix, Arizona, and Fr. Andrew Van Kirk '00, a priest for the Episcopal Diocese of Dallas. In addition to these men in diocesan ministry are those Cistercian alumni who have joined the monastery to become monks, priests and teachers: Abbot Peter '73, Fr. Augustine Hoelke '00, Fr. Philip Lastimosa '00, Fr. Stephen Gregg '01, Fr. Lawrence Brophy '01, and Br. Francis Gruber '01.
Please join us in prayers of thanksgiving for Fr. Zak's response to his vocation. May he bring the merciful love of the Father to those he serves for many, many years.
Ordinations of Fr. Raphael and Br. Francis
On August 15, 2019, the Solemnity of the Assumption of Mary, Br. Raphael Schaner was ordained a priest and Br. Francis Gruber a deacon, both at the hands of Bishop Edward Burns in the abbey church. Joining the celebration was a standing-room-only crowd of family and friends, including many members of the school community. On the following Saturday, August 17, Fr. Raphael celebrated his first mass, with Fr. Ignatius preaching (his homily is available in the Sermons section of the website or at the following link) and Br. Francis serving as deacon. Since Fr. Raphael and Br. Francis were novicemates, it was very special to see them serving together as priest and deacon.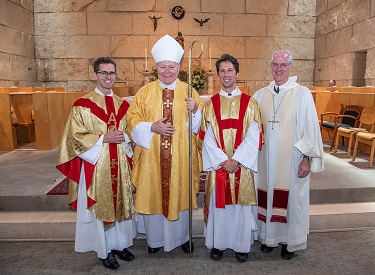 The newly ordained, Fr. Raphael and Br. Francis.
Fr. Raphael had well over 80 friends and family come in from out-of-town to be present for the special events. Since it is a tradition in the Schaner family to wear tasteful "Hawaiian shirts" at even formal events, and since Fr. Raphael informed his many friends among the student body in the school about the tradition, the assembly was full of color, palm trees and bright suns. It was a sweet sign of how close the Schaner family and Cistercian community have grown over the years of Fr. Raphael's teaching and ministry in the school.
Upon entering the church for Fr. Raphael's first mass, participants could see posted on a wall a list of special intercessions for four different classes of the school. It was clear from these intercessions that Fr. Raphael saw a special role played by these classes in his own formation. As he said, " It dawned on me in the days leading up to the ordination that, while it takes a village to raise a child, it takes a Church to raise a priest. This was especially made clear to me in the abundance of prayers and support both from my California family and from the extended Cistercian family. My first few years teaching at our school were particularly formative, and I owe a great deal to my students and their families for their ongoing prayers and friendship. Of course, my "rearing" is far from complete, and in the growing I have yet to do, I will rely on the continued prayers of my doubly extended family."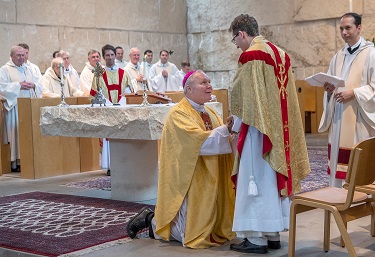 Bishop Burns receives a blessing from Fr. Raphael.
In a moving gesture before the final blessing and dismissal at the ordinations, Bishop Burns asked Fr. Raphael to give him a blessing and then knelt down to receive it. It was a sign to everyone that all of us, clergy and laity alike, are indebted to the priesthood, which is the gift by which Christ the High Priest and Good Shepherd remains sacramentally present in the Church to continue his work of baptizing, reconciling and joining the faithful to his mystical body in the Eucharist. It was a wonderful way to finish a beautiful liturgy and to pray with awe for Christ's gift.
Solemn Profession of Br. Francis
During mass at 9:00am on Wednesday August 14, Br. Francis Gruber (CPS '01) made his solemn profession to the monastic life at Our Lady of Dallas. Like every solemn profession, it was a special and intimate assembly. Joining the monks and the family of Br. Francis, were several friends from his Form at Cistercian, as well as friends from some of the many places in which he is involved today, such as The University of Dallas and Catholic Charities Dallas.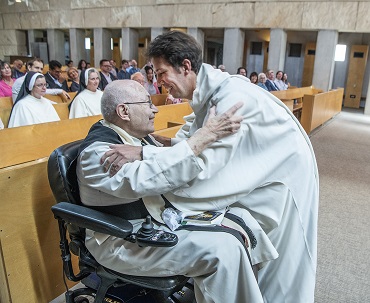 Br. Francis gives his Form Master the sign of peace.
After graduating from Cistercian in 2001, Br. Francis studied philosophy at Texas A&M and later obtained a master's degree in humanities at The University of Chicago. In addition, he worked for some time at Casa Juan Diego in Houston, an organization inspired by the Catholic Worker movement of Dorothy Day and Peter Maurin to serve immigrants, refugees and local poor persons. Since joining the monastery, Br. Francis, in addition to teaching, has studied at The University of Dallas and volunteered part time at Catholic Charities Dallas.
This year Br. Francis will travel to Rome to begin his doctoral studies in philosophy at The Gregorian University. When asked about what he looks forward to in Rome, he replied, "I look forward to benefiting as much as I can from the people, places, and aura of Rome. During the one semester I already spent there, I felt greatly rejuvenated in the faith and as a religious, on account of the many churches, basilicas and places of pilgrimage, as well as the witness of so many wonderful young men and women religious from around the world joyfully answering the call of God."
Let us thank God for Br. Francis' presence in our community at Dallas, and let us pray for his fruitful studies and service in Rome.
Our Lady of Dallas Hosts International Conference
Throughout this year, in 2019, Cistercian monks and nuns around the world are celebrating the 900th anniversary of the Carta Caritatis or "Charter of Charity" (1119), the document that formally gathered together the first Cistercian monasteries into a shared life and mutual responsibility. This document was so successful it was eventually embraced as the model by which the medieval Church asked religious orders to organize themselves at the Fourth Lateran Council (1215). It remains today a source of inspiration.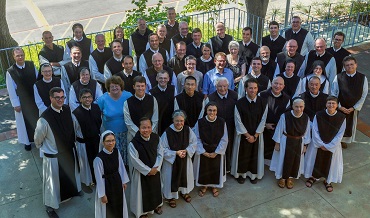 Group photo of the participants of the conference
This past June an international conference and liturgy were held at Citeaux, France, which is the birthplace of the Cistercian Order. Events will also be held in Paris in October and at Heiligenkreuz, Austria, in November. Meanwhile, from July 16-19, Cistercian Abbey Our Lady of Dallas hosted an international conference to discuss the Charter of Charity (see a video report here). Unique in several ways, this was the first time Cistercians and Trappists of North America gathered in such numbers. Among the guests were many monks, nuns and scholars from at least twelve countries, some as far away as Germany and Australia, as well as the general abbots of both the Cistercian Order (O.Cist.) and the Trappist Order (OCSO), the two leaders who are collectively responsible for over 7,000 Cistercian monks and nuns around the world. Also invited were two Cistercian monks from Ethiopia, but they were unfortunately not permitted by their government to travel abroad, thus giving those who were able to attend a solemn reminder of the different circumstances in which Christians around the world live our common faith.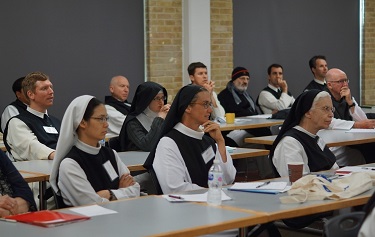 Photo of the participants during one of the lectures
The Charter of Charity receives its name in part from the intention of the Cistercian founders to ensure that the relationship between their monasteries would not be reduced to the economic relationship that existed at the time between medieval feudal estates and many other monasteries, according to which one house would found another house for its own economic advantage. In writing the document, the founders wanted to make clear "by what covenant" all the monasteries should be knit together. They called it the "Charter of Charity" since, "averting the burdensome levying of all exactions, its statute pursues only charity and the advantage of souls in things human and divine." When one monastery grows to the point that it founds another monastery, the relationship between the "mother" and "daughter" monasteries should be cultivated in view of the material and spiritual well-being of all, not just the mother. In addition, the Charter enacted important systems of accountability between the monasteries: every year all the abbots would gather together to discuss relevant issues and hold each other accountable to their commitments; and every year the mother house should visit her daughter house to ensure the material and spiritual well-being of its members.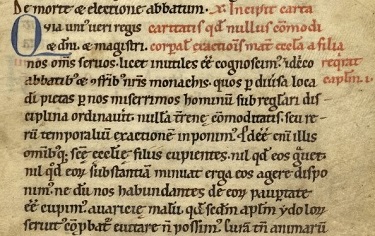 Manuscript of the Carta Caritatis (Stična)
Taking its inspiration from this sense of Christian solidarity in all things material and spiritual, the conference organized its presentations. There were seven lectures from different scholars, as well as presentations by Cistercian superiors on the current state of the two orders (Cistercians and Trappists), and a panel by younger monks and nuns about their hopes for the future legacy of the Carta. The presence of lay scholars was a great aid to the conference, as their expertise and critical perspective increased the sophistication of the discussions. At the same time, the earnest and lively engagement of the monks and nuns (some of them scholars as well), made it clear that these days of study were not just of theoretical interest but of vital concern to the future of the Cistercian tradition and the personal growth of its members and those they serve. They were also days in which all the participants experienced the grace of a shared vocation. As one Cistercian nun wrote, "Our time in Dallas was a GREAT blessing. Meeting all your brothers was wonderful. I hope everyone left the Colloquium with a bit more hope, joy, and love in their hearts. I certainly did. I cannot stop giving thanks to the Lord."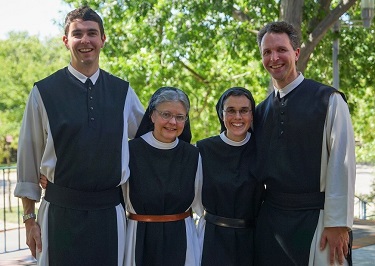 Four of the organizers of the conference
In the course of the many formal and informal discussions, several topics came up, such as whether current canonical structures in the two orders successfully promote the solidarity and mutual responsibility called for by the Charter of Charity; informal ways in which the monasteries can cultivate ties of friendship and mutual assistance; the identity of the Cistercian charism; the ways in which the two orders seek unity within the diversity of traditions and observances; the current relationship between men and women in the two orders; how to respond to the challenges facing many Cistercian monasteries today especially in the Western world, such as the decline in vocations and the need to maintain or sell ancient properties; and how to live the monastic vocation today in a way that offers a convincing witness to the world of the primacy of God above all things, and the reality of his love for us in Jesus Christ.
May God bless Cistercians and Trappists everywhere this year, as well as all those who join them in celebrating the Charter of Charity.
Stained Glass Installed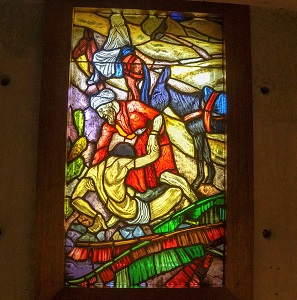 The Good Samaritan (Sándor Nagy)
Early this summer, Aaron Frei of Emil Frei & Associates stained glass company installed stained glass windows in our abbey church confessionals. The windows originate from Hungary and were crafted by Sándor Nagy (1869-1950), who worked in an artist colony in Gödöllő, near Budapest. Many of his stained glass work obtained acclaim but fell victim to bombing during World War II.
In fall of 2018, Frei brought the windows from Dallas to his family's stained glass window workshop at Emil Frei & Associates, where the windows first underwent extensive cleaning. Aaron's brother, Nicholas, constructed the wooden frames for the windows, matching the wood to the railings in the adjacent abbey crypt. The two windows each depict one of Jesus' parables, the Prodigal Son and the Good Samaritan, and thus provide both priest and penitent an aid in meditating on the mystery of God's mercy. Confessions are regularly available at the abbey on Wednesdays from 4:00 - 5:00pm.
Br. Raphael Makes Solemn Profession
On August 17, Br. Raphael Schaner made his solemn profession, committing himself to the monastery for the rest of his life, and on the next day he was ordained a deacon. Abbot Peter receive his solemn profession, and Bishop Edward Burns of Dallas ordained him. Both celebrations took place during a mass in the Abbey church and before a congregation of many Cistercian friends and family. After both masses there were receptions in the Abbey courtyard. As Br. Raphael says, the Schaner family is "close-knit" and "so supportive of my vocation to this community," and so it was no surprise to see over thirty of his family members in attendance from all over the country. His family has had ample reason to travel this year with so many members getting married, baptized and confirmed. Br. Raphael joked, "We did the tally, and we realized that with my ordination our extended family has received six of the sacraments this year. The only one we're missing is Anointing of the Sick, but we're okay if we don't end up needing that one just yet."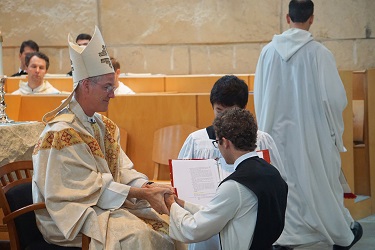 Br. Raphael promises his obedience to Abbot Peter.
The first several years of monastic life are focused primarily on discernment, on questions about God and his will for the life of the candidate. No one can take up the adventure of monastic life or pursue the priesthood unless he is first called by God, who alone has the power to guarantee that someone can persevere faithfully (cf. Hebrews 5:4). At some point in his temporary profession, the young monk must therefore reach the conviction that God is calling him in this way. Of course, he will not have resolved every question or seen his way through every obstacle; but he will have reached the moral certainty in his conscience that God is calling him to take this step, and have the faith that God will never abandon anyone in his Providence.
When Br. Raphael was asked about the moment he reached this conviction, he said his "decision to request solemn vows never came suddenly. It was a gradual process of growth, though not without growing pains. In a way, it was much like Elijah's encounter with God at Mt. Horeb — not in the raging fire, driving wind, nor rumbling earthquake, but in a small still voice. Certainly I experienced what felt like fires and storms in the process of discernment, but ultimately I found such peace in the prospect of solemn vows."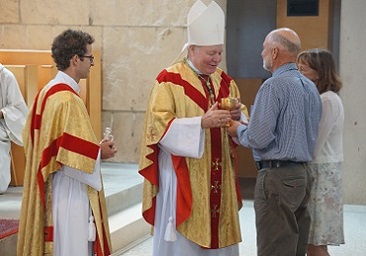 Mr. and Mrs. Schaner present the gifts at the ordination.
Discerning involves growing in self-knowledge and accepting new challenges. It can be difficult at times. Br. Raphael realizes that "discernment will not be without doubt or suffering, but Our Lord matches his steps with yours as you carry your cross. Once you embrace the cross, there is a sweetness that far outweighs the struggle."
As a deacon, this year Br. Raphael will begin serving in a new way through his preaching responsibilities in the school and monastery. He says, "There is a heavy emphasis on service in the diaconate, and I hope to continue growing in that spirit of service. Serving at the altar has been humbling, especially when I kneel right there during the consecration. It makes me feel like a child again — small, watching in wonder as father does his work at the table. I pray that that wonder stays with me, even as I prepare for the priesthood." With immense gratitude for his vocation, let us pray for Br. Raphael. May he be a faithful servant of the Cistercian community and indeed the whole Church!
Br. Christopher Makes Temporary Profession
On August 12, 2018, Br. Christopher Kalan professed his temporary vows of obedience, stability and conversion to the monastic way of life at Our Lady of Dallas. He is an alumnus of the University of Dallas and Texas A&M University, having graduated with degrees in physics and engineering respectively. This year he will return to graduate school to begin his studies for the priesthood by taking courses in theology and philosophy at the University of Dallas.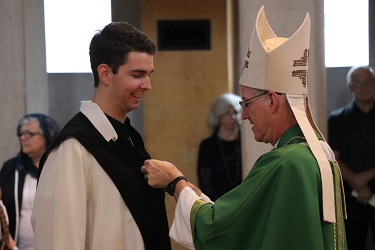 Br. Christopher receives the black scapular.
One of the joys for any community is to see the unique personality and gifts that are brought by each new member. Br. Christopher is known as an excellent handyman around the monastery. In fact, during his novitiate he was given many practical jobs like fixing doors, lights and other parts of the building. He found this work to be a nice complement to his studies: "I particularly like doing work with my hands, so the work around the monastery was a good outlet for me. It allowed me to take a break from the studies required by my novice classes and still serve the needs of the community in a way that is unique to my talents. I wouldn't say I prefer studies over manual work or vise-versa. The balance between the two is very important to me and helped keep me from going stir crazy during the novitiate and feeling like I was trapped with nothing to do except read books."
Br. Christopher's temporary vows commit him to living the monastic life at Our Lady of Dallas for the next three years. This period is still one of discernment for him and for the entire community. Every newly professed monk has at least four more years before he can be eligible to petition the community to make solemn vows. When asked to give advice about discerning, Br. Christopher said, "If I were to try to give advice it would be never say never. I did not picture myself as a monk or even consider a monastic vocation until shortly before I entered the monastery, but I did try to make myself available to promptings of the Holy Spirit and to be open to many different vocations as I approached the end of my college career." It is important, he says, to remain open to God's plan, which often surprises us: "I would also say try not to plan your whole life out because that just makes God laugh. If you are considering a monastic or religious vocation that is wonderful! Pursue that vocation, but led God lead you and do not try to force it. If you are not pursuing a religious vocation, at least be open to the idea and do not run from it. God knows what is best for you. The act of sincerely considering a religious vocation and asking God how you can fully serve him will help you in marriage or any other vocation."
Let us pray for Br. Christopher as he begins his studies for the priesthood and continues to discern God's will for his life!
Beatification of Fr. Janos Brenner
On May 1, 2018, about 20,000 people gathered in Szombathely, Hungary to celebrate the beatification of Fr. Janos (John) Brenner, a Cistercian monk who, after the supression of the Cistercian Order in Hungary by the communist government, finished his formation in the priesthood through the diocesan seminary. Fr. Janos was a young, enthusiastic priest with a special gift for serving the young. His desire to serve was so strong that he refused to stop even after being warned by a government commissar about personal threats made against him (the communists did not appreciate his success as a priest). Even when his bishop offered to transfer him for the sake of his safety, Fr. Janos preferred to remain in his ministry, placing his trust in God.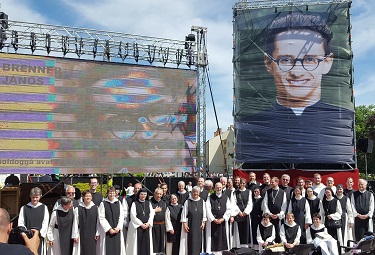 A crowd of Cistercians joines 20,000 at the beatification.
On the night of December 14, 1957, he was called to administer the last rites to an allegedly dying man. On his way, he was ambushed in the darkness of a forest trail and stabbed 32 times with knives and trampled upon once he was lying on the ground. When the villagers found him dead in the morning, he was still protecting with his hand the Blessed Sacrament on his body. Today a chapel marks the spot where he was murdered and pilgrims come there in procession from many parts of Hungary. More information about Fr. Janos is available here on our website.
Abbot Peter, Fr. Julius and Fr. Bernard were in Hungary to celebrate Fr. Janos' beatification, along with many other Cistercian monks and nuns from around the world. When asked about the celebration, Abbot Peter said, "The most moving parts of the ceremony for me were when Fr. Joseph Brenner placed his brother's relics in a beautiful reliquary next to the altar and then when he named his brother among the saints when he read his part of the Eucharistic prayer. He became very emotional, his voice quivering." We are very grateful at Our Lady of Dallas to count a member of Zirc, our confrere, among the list of blesseds and saints in heaven! May he inspire us all to fidelity in our vocations. Blessed John Brenner, pray for us!
Reelection of Abbot Peter Verhalen
On January 6, 2018, during a conventual chapter the monks of Our Lady of Dallas elected Fr. Peter Verhalen to a second six-year term as abbot of the Cistercian monastery. He was first elected on February 15, 2012. Abbot Peter is a native of Texas and an alumnus of Cistercian Preparatory School. Before serving as abbot, he was headmaster of Cistercian Preparatory School and prior of the monastery from 1996 to 2012. During his first term as abbot, he guided a capital campaign for the renovation of certain monastery buildings and the construction of a crypt. In various ways, he promoted the spiritual life of the monastic community, endeavoring to renew thoughtfully certain traditional observances, such as table reading, and to serve as a genuine spiritual father.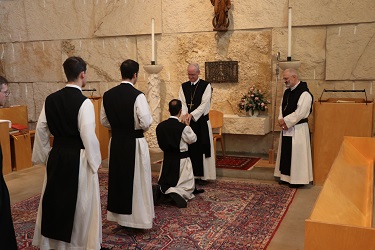 Monks renewing their obedience to Abbot Peter.
In the tradition of St. Benedict, an abbot is believed "to hold the place of Christ in the monastery" (Rule of St. Benedict, Chapter 2). This allows the monks, by their profession, to live a life of conscientious and free obedience, entrusting themselves to Providence working concretely through their duly elected superior. Please pray for all the Cistercian monks of Our Lady of Dallas, and especially for their newly reelected abbot, as they give thanks to God for his blessings and seek to discern his will for their growing community.
90th Birthday Party for Fr. Bede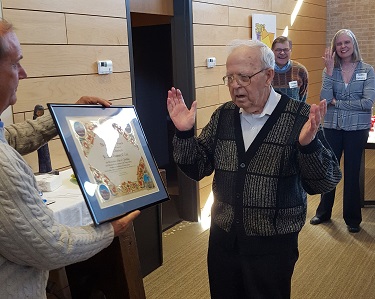 Fr. Bede is presented with a papal blessing.
Fr. Bede Lackner celebrates his 90th birthday this year. A group of his former students from the University of Dallas and from the University of Texas at Arlington honored him with a party in the guest house of the Abbey. Vince Ansiaux and John Gallagher, two students from Fr. Bede's "Western Civilization" course in the 1960's, organized the celebration.
Fr. Bede was given a cake with an image of Citeaux (the founding monastery of the Cistercian Order) drawn in the icing. In anddition, he was given a very special present from his former students: a papal blessing. May God bless him and his former students after so many years of teaching and priestly ministry.
Fifty Years of Priesthood
On Sunday, August 20, Fr. Bernard celebrated his fiftieth-year jubilee as a priest during the 9:00 mass. Just one week earlier he had flown home from Hungary, where he has been serving our motherhouse, the Abbey of Zirc, for almost two years. Since he is close to so many different communities on both sides of the Atlantic Ocean, Fr. Bernard has found several opportunities to celebrate his jubilee – seven, so far (Budafok, Kismaros, Zirc, Budapest, Stams, Székesfehérvár and finally Dallas).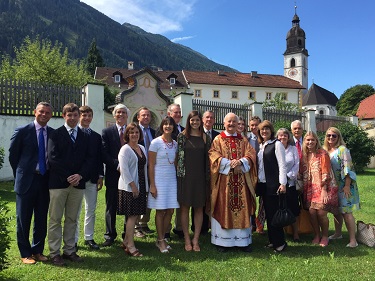 Fr. Bernard and friends at Stams, Austria.
After finishing his theological studies, Fr. Bernard was ordained in Europe at the Jesuitenkirche in Innsbruck, Austria, which is exactly where his older brother, Fr. Henry Marton, had been ordained eighteen years earlier by the same bishop. Fr. Bernard celebrated his first mass as a priest at the Abbey of Stams, with the same preacher delivering the homily that preached at his brother's first mass. Now fifty years later, Fr. Bernard returned to Stams to celebrate his jubilee. He observed that some things were the same, others different: "To be able to celebrate at the same altar, wearing the same vestments and signing the same visitor's book that I signed fifty years ago made the circle complete. I returned to my roots in many ways at this mass. With most of my family members now deceased, many of my adopted families from the US were present and sitting in the same pews that my original family occupied half a century ago. It was a gut-wrenching experience to look at them and feel their presence. Three of the original concelebrants were with me as well, and the rest I visited in the cemetery after the festivities."
Fifty years is a long time, and so a jubilee easily inspires gratitude. After fifty years of priestly ministry, Fr. Bernard says that he is especially grateful for the gift of perseverance. As the first priest to be ordained as a member of the community at Our Lady of Dallas, his road was certainly not without its challenges. When asked about his long ministry, he responded, "I cherish all aspects of my vocation as a monk, teacher and priest." We too pray with gratitude for Fr. Bernard and his ministry. May God give him every grace to complete his years of service, and especially now during his time at Zirc.
Art Exhibition at the University of Dallas
The Beatrice M. Haggerty Gallery at the University of Dallas invites you to Modern Sacred: The Saint John's Bible and Selections from the Permanent Collection, an exhibition showcasing permanent collection highlights alongside the Heritage Edition Volume "Gospels and Acts" from The Saint John's Bible, the first handwritten and illuminated Bible commissioned by a Benedictine monastery since the invention of the printing press in the 15th century. For more information on the Heritage Edition of The Saint John's Bible visit saintjohnsbible.org. For more about Year of The Saint John's Bible at the University of Dallas visit here.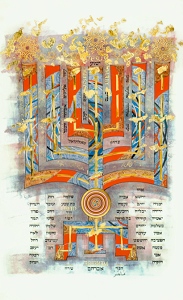 St. John's Bible Image
All works in this exhibition are by artists who sought new forms, gestures, and materials to make manifest the Christian imagination. Modern Sacred offers a rare opportunity to examine how contemporary art explores, illuminates and represents the sacred. There will be opportunities for viewers to turn each page of the Heritage Edition of the Bible witnessing firsthand the beauty of traditional and contemporary print and illumination in action. Framed prints from other volumes of the Heritage Edition will also extend viewer's knowledge and experience of this intricate combination of scripture and art. The project of The Saint John's Bible has been called "one of the extraordinary undertakings of our time," by Smithsonian Magazine. Select artists from the university's permanent collection include several of the Art Department's early founding faculty — Lyle Novinski, Heri Bert Bartscht and the Rev. Phillip Szeitz (all three professors emeritus) — as well as Cistercians Fr. Ignatius Peacher and Fr. Damian Szodenyi of Cistercian Abbey of Our Lady of Dallas, and well-known Californian artist, nun and educator Sister Mary Corita Kent.
Abbey Renovations
Over the last year, the Abbey underwent several renovations to its buildings. Most of these were designed to increase our ability to engage the wider community. Thus, the lobby was expanded and the parlors were renovated and refurnished. An extension to the west wing was made in order to create a larger classroom with an independent entrance, and so to allow student guests to come and go freely without having to pass through the cloister.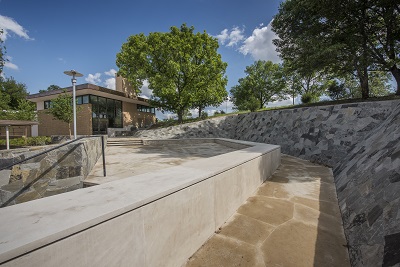 Porch leading up to the renovated guest house.
Finally, a less academic space was created in the guest house (which also received several improvements of its own) to host less formal events like receptions, Bible studies, video presentations and seminars. This enhances the primary function of the guest house, which is to provide a place for families to stay overnight when visiting one of the monks.
Other renovations to the Abbey were made to assist the internal activities of the monks. The space for the library was expanded on the first floor. While all the books were off the shelves, improvements were made to the digital catalog and organization of the library. In addition, three new bedrooms were created on the second floor of the extension to the west wing (these bedrooms are therefore just above the new classroom). Finally, the most exciting renovation is undoubtedly the crypt built next to the church to house the deceased members of the Abbey.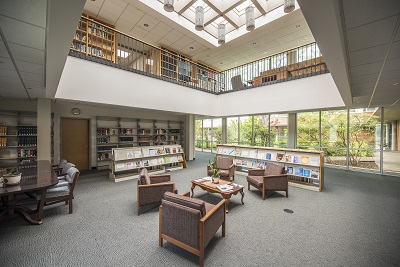 Renovated library in the Abbey.
All these renovations were made possible by the generous community that surrounds and supports the Cistercian Abbey and School. A campaign was launched in 2014 with the goal of raising $10 M to meet the needs of the Abbey and School. Thanks to the support of many donors, we need less than $60K to meet our goal. Construction on the Abbey projects began in the spring of 2016 and is just now being finished. Work on the Science Building at the School was begun in earnest as soon as the boys were dismissed for the summer in 2017.
Coming Home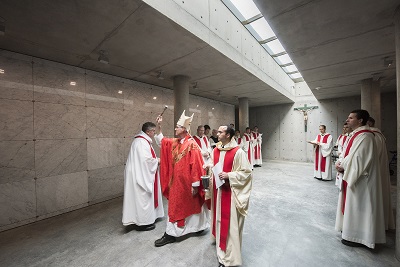 Abbot Peter blesses the new crypt.
Over the last year, the Abbey has undergone a series of renovations. Among these renovations was a crypt built adjacent to the church to hold the remains of ninety-six monks. It sits underneath the earth in a hill next to the church, but the ceiling touches the surface and so allows for a skylight to run along most of the ceiling of the crypt.
The crypt was blessed on Pentecost, Sunday June 4, 2017 during a mass for the Memorare Society, which is the planned giving society at Cistercian.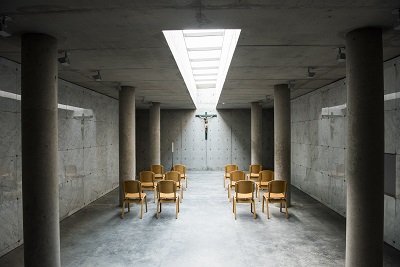 A skylight illumines the entire crypt.
For decades, deceased members of the Abbey were buried in a plot at Calvary Hill Cemetery in Dallas, Texas.  Now, all twenty-one deceased monks are back home, as it were. During July and August, their bodies were transferred two or three at a time into the new crypt. Each time a group of monks and associates from Calvary Hill Cemetery gathered to pray over the caskets before re-entombing them in the new crypt.
The story was covered by The Dallas Morning News in their piece A Brotherhood Made Whole. We are very grateful to the many generous donors who made this crypt into a reality.
Through the mercy of God may our brothers rest in peace with all the faithful departed.
Fr. Melchior Chladek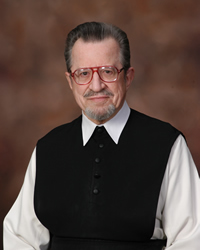 Fr. Melchior Chladek
Please remember in your prayers our beloved brother in Christ, Fr. Melchior Chladek, who passed away peacefully on Wednesday, June 14. A rosary will be offered for him on Friday, June 23, at 7:30 p.m. in the Abbey Church. The Funeral Mass will be celebrated on Saturday, June 24, at 10:00 a.m. in the Abbey Church, with an interment in the Abbey crypt afterward. A reception will follow in the Guest House.
Fr. Melchior's obituary can be found here. He was the last survivor of the group of Hungarian Cistercians who founded the Cistercian Monastery Our Lady of Dallas. Let us pray for the repose of his soul, as we give thanks for his life and ministry.