Abbey News
Simple Profession of Vows & Ordination to the Priesthood
We are joyful and grateful to announce that at 9:00 AM on Sunday, August 10, 2014, Brother Francis Gruber and Brother Raphael Schaner will complete the novitiate and make their simple profession, promising "stability, the monastic way of life, and obedience" for three years at Our Lady of Dallas.
In addition, we gives thanks to God in a very speical way for Br. Justin McNamara, who last year made his solemn profession and this year will be ordained to the priesthood. On August 15, 2014, at 10:00 AM, Bishop Kevin Farrell will ordain him in the Abbey Church. The following Sunday, August 17, 2014, at 9:00 AM, Fr. Justin will celebrate his first mass in the Abbey Church.
A reception will follow all three events in the courtyard of the Abbey. Please join us as we give thanks to God and celebrate these three men, who are to take such significant steps in their vocations.
Solemn Profession of Vows & Ordination to the Diaconate
With joy and gratitude we announce that on March 2, 2014 Br. Justin McNamara made his Solemn Profession of Vows and that on the following Saturday, March 8, he was ordained a deacon by Bishop Kevin Farrell. Br. Justin is the eleventh young man to make his solemn profession at Our Lady of Dallas since the summer of 2008. He is scheduled to be ordained to the priesthood on August 15, 2014 at the Abbey by Bishop Farrell.
For three years Br. Justin has worked in the school, teaching both religion and Latin. At the same time, he has also attended courses at the University of Dallas furthering his background in classical languages and literature while earning master's degrees in theology and humanities. To many, Br. Justin epitomizes stability -- in his work, in his studies and in life as a member of Our Lady of Dallas. Although he was the only novice in his class, he moved through his discernment with characteristic focus and peace. When asked about that process, Br. Justin responded: "My discernment was always brief. I knew I was called to each one of the steps along the way. Following a radical conversion in college, God's voice seemed loud and clear: Come and be one of my priests. This invitation then became more specific while I was in the seminary as I sought to find a community that served God and others in a monastic way of life. The call came precisely when I needed it. When, very providentially, I discovered Our Lady of Dallas, little hesitation remained. I found where God had been calling me to be one of his priests. Profession of solemn vows was indeed the end of a 'long period of time' but the continuation of a plan well under way in my journey with God."
In the fall of 2014, Br. Justin will travel to the Cistercian Monastery of Heiligenkreuz in Austria to broaden his understanding of the Cistercian tradition and to deepen his knowledge of Latin and German. He will be among several brothers who in recent years have spent time in Europe to further their studies. All have studied with the hope that their scholastic efforts in such enriching environments would bear fruit for the monastery and for the greater Cistercian community. When asked why Our Lady of Dallas supports and encourages such programs of study, Abbot Peter replied: "I see two great values in the monks' studies abroad. First, they have the opportunity to experience the Cistercian Order beyond our one monastery. They see the variety of communities, their demographics, apostolates, and liturgy. This experience helps the monk understand and appreciate our own community. Second, even if the monk does not earn a degree, he will advance his study in theology at an institution other than the University of Dallas, all the while still living in a Cistercian monastery. Such well and broadly formed monks will certainly be able to serve the larger Dallas community in any number of ways."
Br. Justin is supported by a growing family, many of whom attended his vows and ordination. As we give praise to God for the vocations Our Lady of Dallas has received in recent years, let us remember to pray with gratitude for the families that fostered these young men and assisted them in their efforts to follow his call. And let us ask him to raise up more men and women in the Church ready to work with the "Lord of the harvest" (Matthew 9:38), enjoying the happiness of a life dedicated to the contemplative union of prayer and to the loving service of their neighbor.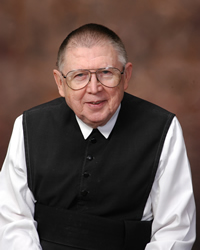 Passing of Fr. David Balas
Please remember our beloved brother, Fr. David Balas, a distinguished theologian and long-time professor at the University of Dallas, who passed away peacefully on Saturday, February 8, 2014. His obituary may be found here. Let us pray for the repose of his soul, as we give thanks for the edifying witness of his love for a monastic life filled with study, teaching and priestly ministry! A moving tribute to Fr. David was written by Randall B. Smith, a former student and professor at the University of St. Thomas in Houston. It can be accessed here.
Fr. Ignatius in the News
We are proud to relay that Fr. Ignatius was recently interviewed by the Dallas Morning News about his artwork. In the article, Fr. Ignatius offers some comments about the origin of his vocation and what motivates his art. The article can be found here, and samples of his artwork can be seen here on our website.
Our Lady of Dallas Welcomes Four Novices
We are happy to announce that four young men have completed their period of postulancy and formally entered the novitiate at Our Lady of Dallas. After moving into the monastery on August 1, they lived and prayed with the monks for three weeks as they took their first steps in a more focused effort to discern their vocations and participate in our way of life. On August 19, during the First Vespers for the Feast of St. Bernard, in a rite celebrated privately within the monastic community, the four men prostrated themselves before Fr. Abbot Peter and asked to be received into the monastery as novices.
Smiling widely, Fr. Peter offered them a word of encouragement, and he exhorted them to open their hearts to God's will as they discern their vocations through a more intimate experience of the blessings and challenges of life at Our Lady of Dallas.
Before being clothed with the white habit of a novice, each of the young men received a new name from the abbot. The reception of a new name is a powerful reminder of the goal of monastic life: conversion to Christ by putting on the "new man" created in his image. Fr. Peter explained how he intends each new name to be a gift both for the one who receives it and for the rest of the community. To the one who receives it, a new name offers the opportunity of associating oneself intimately with a particular saint, chosen by Providence to shed light on one's self-understanding and vocation. To the community at large, a new name brings with it a new patron, an advocate in the heavenly court and an invitation to identify with a particular set of gifts and spiritual values.
The four young men come from a variety of backgrounds. Br. Andrew Jamongjit, born in Oklahoma and a graduate of both the University of Texas (BS '01) and the University of Texas at Arlington (MS '04), studied mathematics before joining the monastery. He is named after St. Andrew Dung-Lac, one of many thousands of Vietnamese men and women to have suffered martyrdom in modern times. Br. Patrick Edinburgh and Br. Francis Gruber are both native Texans and graduates of Cistercian Preparatory School ('01). After growing up in the Dallas Fort-Worth area, Br. Patrick went on to graduate from Franciscan University of Steubenville in Ohio with a degree in theology (BA '06), and then from Southern Methodist University with a degree in law (JD '12). His patron is the famous St. Patrick of Ireland. Br. Francis, whose namesake is the much beloved and admired saint from Assisi, graduated from Texas A&M University with a degree in philosophy (BA '05), and then from the University of Chicago with a master's degree in humanities (MA '13). Br. Raphael Schaner, whose patron is the great archangel and guide for those discerning God's will (cf. Tobit), was born in California. He attended the University of Dallas, graduating with degrees in theology (BA '10) and humanities (MH '13).
Please keep these young men in your prayers. May their time in the novitiate be for them a genuine and transformative encounter with God, as they seek to discover his will for their lives.
Cistercian Visits
This summer several monks of Dallas were able to visit Cistercian monasteries in America and around the world. Such visits are a blessing for the community, as they offer the monks an opportunity to increase their friendship and solidarity within the Order, as well as a chance to witness the Cistercian vocation lived out in different contexts.
In June, Fr. Abbot Peter, Fr. Thomas and Fr. John visited the Cistercian house of St. Emery in Budapest, Hungary, where the Congregation of Zirc held a "congregational chapter," or reunion of the congregation's major superiors and their elected representatives. After a full day of discussion and exchange among the monks and nuns present at St. Emery, the three monks from Dallas went to spend the night at the Abbey of Zirc, which lies a little over one-hundred kilometers outside Budapest. There they had the opportunity to pray and recreate with the monks. They also saw a beautiful and new state-funded museum dedicated to the history of the Cistercian Order in Hungary, as well as the newly renovated façade of the abbey church.
In addition to their visit to Hungary, Fr. Peter, Fr. Thomas and Fr. John visited the Cistercian monks and nuns of Stams in Austria, Seligenthal in Germany and Pra'd Mill in Italy. In each place they enjoyed the exceptional hospitality of their confreres and enriched the connection between Our Lady of Dallas and the other monasteries of the Order.
In early August, Fr. Stephen had the chance to visit St. Joseph Monastery, a Vietnamese foundation far out in the desert near San Bernardino, California. The monastery, a daughter-house of Phuóc Son (Vietnam), was founded in 2008 at the invitation of the bishop of San Bernardino. Today it is home to eight monks, whose work includes offering retreats and some farming. Fr. Stephen enjoyed his time with the community and he was quite impressed by its setting: "It's a monastery in a real desert, with all the mysterious beauty of the desert: a quiet but challenging life, peaceful but never lazy."
This summer, St. Joseph Monastery hosted three young Vietnamese Cistercians who took a break from their studies in Rome to visit America. Being friends of several of the young monks of Dallas, these three brothers also came to Our Lady of Dallas to renew their friendships and to attend the ordination of Fr. John on August 10.
Please keep all monks and nuns of the Cistercian Order in your prayers, as they seek to offer their lives in prayer and love, for God and neighbor.
Renewal of Vows
On August 15, the Feast of the Assumption of Mary, Br. Justin McNamara renewed his monastic vows for another period of three years.  Coming amidst many other significant moments in the life of the Abbey, the Mass and profession were marked by a sense of confidence and familiarity. Br. Justin commented, "Renewal of my religious profession of vows felt like a 'routine gesture' as Abbot Peter suggested. This is not to say it was taken lightly or even carried a mundane message. The time at which it was celebrated tells it all: a priestly ordination, a first mass, the passing of a beloved confrere, a community retreat, and a solemnity of our Blessed Mother. All of these joyful and sorrowful mysteries had happened before in the Abbey, of course; but as they all took place in one busy month it drove home the realization of God's call in my life: my path to Him is here."
Br. Justin will continue to work on a master's degree in humanities at the University of Dallas, while he teaches Latin at Cistercian Preparatory School and to the novices. Please keep him in prayer, along with all the monks and the many families and friends that surround the Cistercian community, that all might respond well to God's call.
Summer Lecture Series Concluded
This year proved to be another success for the "Summer Lecture Series" at Cistercian. In light of the Year of Faith, on June 18 Fr. Stephen Gregg presented on "Christ in Our Creed" and later, on August 6, Fr. Thomas Esposito presented on "What is a Gospel, and why should we read Him?" Many alumni and Cistercian families attended both presentations, and several students from the University of Dallas journeyed across the highway to attend the lecture of Fr. Thomas. On both occasions everyone enjoyed nice cheeses, wine and soft drinks, in addition to an informative lecture followed by lively discussion. Fr. Thomas typed up his lecture, and it can be accessed here.
Ordination
On Saturday, August 10, Br. John Bayer was ordained to the priesthood in the Abbey church by Bishop Kevin Farrell of the Diocese of Dallas. The very next day, Sunday, August 11, Fr. John celebrated his first mass at St. Maria Goretti in Arlington, TX, the parish in which he was baptized twenty-nine years ago. Both masses were attended by large crowds of family and friends of Our Lady of Dallas.
The day of Fr. John's ordination was marked in a special way by the death of a beloved member of the Cistercian community earlier that morning, Fr. Pascal Kis-Horvath. Fr. Abbot Peter was present at Fr. Pascal's bedside as he passed away, and thus was able to bring the news to the community just before the start of the ordination mass. When asked about his thoughts, Fr. John mentioned his sadness at the death of a confrere, and that he found something particularly meaningful in the connection between the two events: "It is, of course, always sad to lose a member of the community; and yet I think it is particularly beautiful that at today's celebration of a new life of priestly service we give gratitude for decades of priestly service faithfully completed. Celebrating the mystery of life and death together offers us, I think, a reminder that God's grace comes at the beginning and end of our lives—it is God who calls us to serve, and it is God who perfects and redeems what we have tried to do."
Fr. John's first mass at St. Maria Goretti was an uplifting moment, being a sign of both the power of baptismal grace and the love and solidarity of the family of faith. Although many of them did not know him personally, approximately two hundred parishioners of St. Maria Goretti attended Fr. John's first mass, coming simply to celebrate the gift of the priesthood and to give thanks to God for the blessings bestowed on a young man baptized in their parish. Fr. Abbot Denis preached a moving homily on John Paul II's famous motto "Be not afraid" and its application to priestly ministry. Fr. Jim Gigliotti, the pastor of St. Maria Goretti, offered a kind word of encouragement before Fr. John spoke at the end. Following the mass, members of the parish organized a reception in the Holy Family Life Center, where Fr. John stood to give first blessings until it ended.
This next year Fr. John will return to Rome to complete his license in dogmatic theology at the Gregorian University. Let us pray for him and for all the monks of Dallas, that they might live well the life of prayer and work to which they have been called.
Passing of Fr. Pascal Kis-Horvath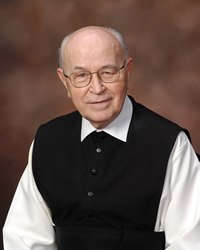 Please remember in prayer our beloved brother in Christ, Fr. Pascal Kis-Horvath, who passed away peacefully on Saturday morning, August 10. A rosary will be recited on Tuesday, August 13, at 7:30 p.m. in the Abbey Church. The Funeral Mass will be celebrated on Wednesday, August 14, at 10:00 a.m. in the Abbey Church. Burial follows at Calvary Hill Cemetery.
Fr. Pascal's obituary, beautifully written by Fr. Abbot Denis, may be found here.
Let us all pray for the repose of Fr. Pascal's soul, even as we give thanks for his uniquely rich life and wonderful ministry.
May he rest in peace.
Passing of Fr. Matthew Kovacs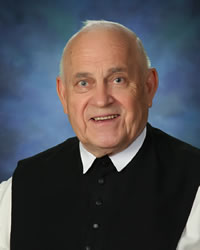 Please remember in your prayers our beloved brother in Christ, Fr. Matthew Kovacs, who passed away peacefully Thursday night during his sleep. A rosary will be recited on Monday, July 15, at 7:30 p.m. in the Abbey Church. The Funeral Mass will be celebrated on Tuesday, July 16, at 10:00 a.m. in the Abbey Church. Burial follows at Calvary Hill Cemetery. There will also be a reception in the Abbey courtyard immediately following the Mass. Should there be need, overflow parking for both events will be directed to the University of Dallas' parking lot B at the corner of Tom Braniff and Northgate, with shuttle bus service provided.
Fr. Matthew's obituary can be accessed here.
Let us all continue to pray for the repose of Fr. Matthew's soul, even as we give thanks for this wonderful and vivacious teacher, priest, monk and man, who has touched countless lives in his 50 years at the School and through his other ministries.
May he rest in peace.
Ordination
On Saturday, April 6, 2013 Fr. Anthony Bigney was ordained to the priesthood by Bishop Kevin Farrell of the diocese of Dallas.  The following day he celebrated his First Mass in the Abbey Church. 
Just one week after Easter, the joyful day came in the midst of a school semester rapidly coming to a close (Fr. Anthony, in fact, had only a few days before sent off the school's yearbook to be printed).  The weather was perfectly cool and bright, and the bluebonnets were just beginning to emerge.  The pleasant conditions and the happy occasion seemed to encourage those who attended – the many family, friends, students and parents of the school community – to stay and to celebrate in the courtyard of the Abbey long after the ordination and First Mass were over. 
The moment marks a major transition in the life of Fr. Anthony, and, therefore, the life of the Cistercian community.  He will continue teaching at Cistercian: "My life as a teacher will make me a better priest - the students are the ones to whom we primarily minister the sacraments, so it's important for me to know them, to know their needs and their personalities."  But in addition to teaching he will now join the rest of the community's priests in their sacramental ministry in the school and diocese, a responsibility which appears to mark the young monks who have taken it up.  Br. John Bayer sees a real difference in the brothers who become new priests: "They all seem to have a new seriousness and excitement towards their vocation at Our Lady of Dallas.  It seems the sacramental ministry, especially the celebration of Mass and confession, offers a very concrete feeling of 'full participation' in the ministry of the monastery." 
Msgr. Michael Olson, rector of Holy Trinity Seminary and former teacher of Fr. Anthony, preached the homily at his First Mass.  When asked about some of the insights and words he received from his family and friends, Fr. Anthony said that, among his favorites, were the words of Msgr. Olson about a priest and his vocation.  Summarizing them, he said, "Msgr. Olson once told me that 'God gets the priest he calls.' The point was that sometimes the priest feels overwhelmed by a sense of unworthiness… but it's good to remember that if one has a vocation it is because God called him with full knowledge of who he is. It's also good to remember that we don't have to lose our individuality, our personality in order to fit into some cookie cutter mold of what a priest should be. God gets the priest he called."
With gratitude let us pray for Fr. Anthony, our new priest, and for all those whom our Heavenly Father has called, formed, and commissioned to serve the Cistercian community and the Diocese of Dallas!
Abbey Landscaping
The new landscaping at Cistercian is transforming the front of the Abbey and will create a green barrier between the Abbey and the adjacent roadways.  When David Hocker, a landscape architect and Prep School alumnus, was first asked to design a new landscape, he saw it as an opportunity to create a setting that would enhance the beauty of the limestone church and provide a sort of outside sanctuary for those coming to the Abbey.  With the project almost complete, monks and visitors are already raving.
Using such native trees as mesquite, Eve's necklace, and cedar elm, Hocker essentially defined three walls of an exterior room, letting the church's façade serve as a fourth wall.  On two sides of the "room," benches made of 8'-15' cedar beams provide a place for people to sit and chat or to reflect.  The design includes a quiet Marian garden, in which of the Abbey's statue of Mary is more easily seen and appreciated for its beauty.   Finally, oversized, irregular limestone pavers, each huge block skillfully cut and fit into place, provide a terrace, where people can again gather after Mass.
Standing on this terrace beneath the beautiful cedar elm, one sees just how beautiful the church is, in addition to finding a quiet, beautiful space for reflection and conversation.  Hocker recently commented that "the impact this project is having is invaluable, and long overdue for the Abbey community."
CPS Class 2012 Gives Sedes Magistrorum
We are happy to report that the Cistercian Class of 2012 has enhanced the beauty of our campus with a wonderful gift to the abbey and school.  In honor of Fr. Peter Verhalen, who retired as headmaster last year to take up the office of abbot, and in thanksgiving for every other headmaster of the school, the Class of 2012 commissioned the Sedes Magistrorum ("The Seat of the Teachers").  The Sedes is a beautiful bench, made from the same limestone as the abbey church and placed at "Observation Point," a particularly beautiful outlook along the new Stations of the Cross trail. 
Shane Macedonio, student council president from 2011-2012 and presently a freshman at Harvard, announced the gift to the Cistercian community during the closing ceremonies of last school year:  "Our class has a unique opportunity as we graduated during a historical year for Cistercian. This year marks not only the fiftieth anniversary of the school, but also Fr. Peter's last year as its headmaster, after sixteen years of tireless work and selfless dedication.  To show our sincere appreciation for all you have done for us, Father Peter, in a way that honors all of those that have helped make Cistercian the school it is today, we dedicate to you the Sedes Magistrorum.  This bench, made of the same stone as the Abbey chapel, has been commissioned in honor of all of the headmasters—Father Damien, Father Denis, Father Henry Father Bernard, our beloved Form Master, Father Paul and all future headmasters—whose names, alongside yours, will be etched into the stone.  Like the Chapel, the bench will represent stability and permanence, as it will remain much longer than any of us."
The bench will make an excellent addition to our campus, and it will stand for many years as a reminder of the many gifts the Cistercian community has been given.  Located on one of the highest and most secluded places on campus, the bench will offer a quiet place for prayer and reflection upon the last fifty years, as well as a place to plan for the next. 
Spring 2012 Newsletter Released
We've put the finishing touches on our Spring Newsletter!  Take a look inside to read about Fr. Peter's installation and benediction as Abbot, Fr. Thomas' adventures in Italy and Greece with the stduents of the University of Dallas, an Easter reflection by Fr. Gregory, and much more.
Abbatial Benediction
On Thursday, April 12, 2012, Our Lady of Dallas celebrated the benediction of Fr. Abbot Peter Verhalen, who was elected and installed as the third abbot of the monastery on February 15.  Abbot Peter is a native Texan, and he is the first American to be elected abbot of Our Lady of Dallas.  Before graduating from the Cistercian Preparatory School in 1973, he spent a year enrolled at a Cistercian school in Schlierbach, Austria.  Since entering Our Lady of Dallas in August, 1975, he has served the community in several capacities; besides being a teacher and a form master, Abbot Peter was also headmaster of the school for sixteen years and prior of the monastery for eighteen years.  Needless to say, his roots in the Cistercian community and tradition are wide and deep.
 The benediction of Abbot Peter was a very special moment for Cistercian.  Undoubtedly one of the largest events ever celebrated in the Abbey Church, the day was marked in a special way by the presence of so many alumni and current students and their families.  Almost a third of the pews had to be reserved for Abbot Peter's former students and their families.  To accommodate the remaining—and overflowing—congregation, a tent was erected on the lawn in front of the Abbey Church in which the mass and benediction could be viewed on live video.  Everything was in fact captured on film and can still be viewed at the Cistercian You Tube site.
In addition to former and current students of Cistercian, we were also blessed by the presence of so many friends and supporters of the monastery, including those from the University of Dallas.     Collegium Cantorum, under the direction of Marilyn Walker and Fr. Ralph, attended and sang at the mass.  Their presence at our liturgies continues to be a tremendous gift to the community.  Several priests from the surrounding dioceses also came and concelebrated at the mass, filling the sanctuary well beyond its normal capacity.  In addition, we were honored by the presence of four bishops from the Dallas and Fort Worth dioceses: Bishop Kevin Farrell (Dallas) and his auxiliary bishops, Bishop Mark Seitz and Bishop Douglass Deshotel, and Bishop Kevin Vann (Fort Worth).   Finally, several representatives of the Cistercian Order were in attendance from various monasteries around the globe: Abbot General Mauro, who is the head of the Cistercian Order (Rome), Archabbot Sixtus, who is the President of the Congregation of Zirc (Hungary), Abbot Raphael (Rougemont, Canada), Fr. Dominic (Chau Son Monastery, California), Fr. Anthony (St. Joseph Monastery, California), and Sister Anne Marie, who is the novice-mistress of Valley of Our Lady Monastery in Wisconsin.  The presence of so many fellow Cistercians made a notable impression on many members of the community.  Br. John remarked, "These days, during which we have had so many members of other monasteries as our guests, have really instilled in me a sense of solidarity with my fellow Cistercians.  I now find myself often thinking and praying for the health and happiness of these other communities in our order.  That feels very special."
Bishop Farrell offered a beautiful homily on the vocation of the abbot, which can be found here.  His homily, which included several thoughtful remarks on the Rule of St. Benedict, prompted Abbot Peter to joke to Bishop Farrell about the "Benedictine vocation" that he "appears" to have missed.  Abbot General Mauro also gave a wonderful reflection, which can be found here.
Though Abbot Peter was officially the abbot of Our Lady of Dallas from the moment of his election and installation, his benediction is a necessary act of public prayer during which the community testifies to the grace of his election and, in union with the heads of the local Church, the Cistercian Order, and the faithful, asks for God's blessing.  During the rite Abbot Peter received the Rule of St. Benedict, with which he was charged to "guide and sustain" his brothers in the monastery.  The Rule of St. Benedict is foundational for our Cistercian life and representative of the whole tradition of monastic life, our vast spiritual inheritance.  He also received a special ring, a "seal of fidelity" and a sign of the love of a father, who is ever faithful to his sons and to the service of charity.  Although he is not a bishop, he also received the pontifical insignia of the miter and crozier in recognition of his role as pastor of the monks of the monastery and of the ministry he and his community offers to the local Church beyond the walls of the monastery.
It is with great gratitude and trust in God's Providence that the Cistercian community receives the election of Abbot Peter.  Please pray for him and the rest of the monks, as they strive to grow in monastic life and to serve the community that surrounds them.
A Cistercian Sociological Study
We are always so happy to hear about the college successes of our alumni, and the recent achievements of Thomas Z. Horton ('11) ("Zach") are no exception. While in his first year at Princeton, Zach has produced a very impressive sociological study on the monastic community of Cistercian. Titled Hungarian-American Cistercians in Texas: An Immigrant Community in Transition, the study clearly represents the fruits of many, many hours of work. After spending a large amount of time conducting interviews, writing and analyzing surveys, and pouring through any other available resource, Zach has written a paper that seeks to understand the course of Cistercian's fifty-year history and the dynamics of the monastic community, with a particular focus on the way in which the different cultures (Hungarian and American) and generations relate to each other. The work is a timely gift, given this year's fiftieth-anniversary celebration of the Abbey and Preparatory School. It is also a very fun read, full of pictures and "insider" quotations from many of the monks. Enjoy!
New Abbot Elected at Our Lady of Dallas
We are pleased to announce that on Wednesday, February 15 the Cistercian Monastery elected Fr. Peter Verhalen as the new Abbot of the Cistercian Abbey Our Lady of Dallas. Fr. Abbot Peter was installed shortly after the election, and immediately assumed the full responsibilities of his office. Archabbot Sixtus, who arrived on Monday from the Abbey of Zirc in Hungary, presided at the election and installation.
Over the next several weeks, the Cistercian community will elect the Abbot's Council, and Fr. Abbot Peter will appoint various officers within the monastery as well as the Headmaster in the Prep School. In this interim period, Fr. Paul McCormick as Assistant Headmaster will carry extra responsibilities for the day-to-day operations of the School.
A formal, public Benediction of the new Abbot will be scheduled during the week after Easter on a date convenient for Abbot General Mauro from Rome, Archabbot Sixtus from Hungary, and Bishop Farrell of Dallas. Invitations to the Benediction will be sent out once the date and time are finalized.
Fr. Peter Verhalen (CPS '73) was born in Texas in 1955, and he entered Our Lady of Dallas in August 1975. He made his solemn profession in 1980 and was ordained to the priesthood in April of the same year. He was Form Master for Class 1989, 1997, and 2003. Besides fulfilling his duties as Headmaster, at the school Fr. Peter teaches Latin and Church History.
After the election Archabbot Sixtus spent several days with the community before returning to the Abbey of Zirc. He toured the school and spent a lot of time with some of the Hungarian-born fathers. Before he left he posed with Abbot Peter and Abbot Denis for a memorable "three abbot" photo shoot before the Abbey Church.
Please join Fr. Abbot Peter and the entire Cistercian community in expressing our profound gratitude to Fr. Abbot Denis for his 24 years of dedicated service, and for preparing the community for this next step.
And please continue to remember Fr. Abbot Peter and the entire Cistercian community in your prayers.